When prayer isn't a daily part of our lives, it causes us to live recklessly. Lacking prayer causes us to fall asleep to the Lord's leading.
---
---
I was standing in Home Depot with my husband when I received a text from our daughter. She relayed a glorious, long-awaited answer to prayer for a beloved friend. I wanted to shout HALLELUJAH and dance a happy dance in praise to our almighty, merciful God! (We didn't shout, but Gary and I had us a little praise service in the hardware aisle.)
I wonder, sometimes, why we don't pray more than we do…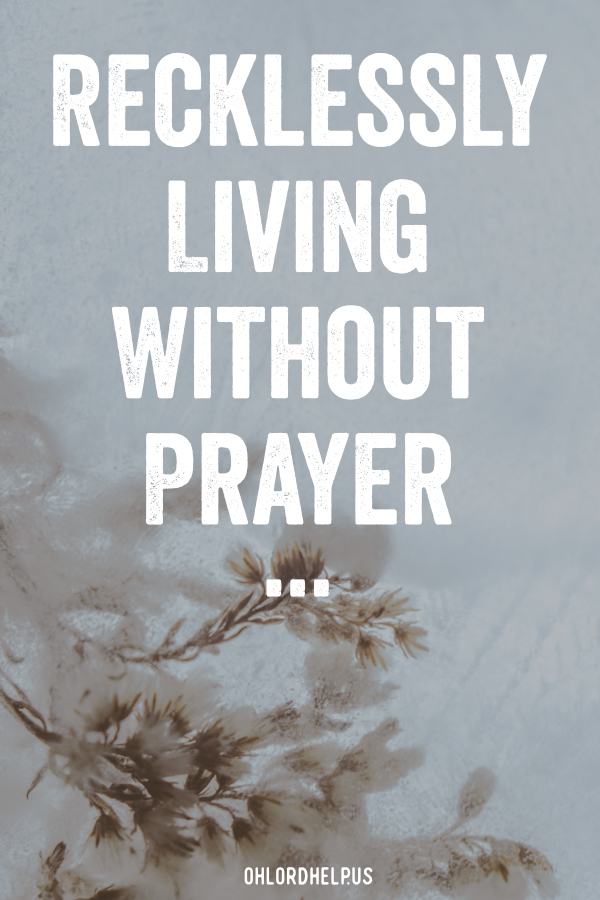 Necessity
As I was pondering this topic my mind was taken back to an article I read years ago by Ruth Graham, wife of Rev. Billy Graham. The Grahams had five children and Rev. Graham traveled around the world preaching the gospel the majority of each year.
For many years, Mrs. Graham did not have an hour or two per day for prayer. Instead, Mrs. Graham prayed as she washed dishes, prayed as she cooked meals or vacuumed. She prayed without ceasing, at all times, during every part of the day. Prayer had been a vital part of her life since she was a young teen; she was convinced it was a necessity.
In Matthew 26, after the Lord's Supper takes place, Jesus takes the disciples out to Gethsemane.
'Sit here, while I go over there and pray."

Matthew 26:36, ESV
Most of you know this story. Jesus took with Him Peter, James, and John while the other disciples were expected to pray, (minus Judas, who had left the supper to betray Jesus). Jesus became very troubled and sorrowful, even to death. He asked the three, the men who were closest to Him, to watch with Him. Jesus then went a bit further still, and fell on his face before the Father, wrestling in prayer.
And He came to the disciples and found them sleeping. And He said to Peter, 'So, could you not watch with me one hour? Watch and pray that you may not enter into temptation. The spirit indeed is willing, but the flesh is weak.' Again, for the second time, He went away and prayed, 'My Father, if this cannot pass unless I drink it, Your will be done.'

Matthew 26:40-42, ESV
Friends Who Pray
You've guessed where this is going, haven't you? Even if you didn't know this story, you're fairly familiar with even the best of human intentions.
Sadly, when Jesus returned the third time, He found them sleeping. So, Jesus went back to prayer alone, "saying the same words again" to His Father. When He returned to His disciples, He said to them:
'Sleep and take your rest later on. See, the hour is at hand, and the Son of Man is betrayed into the hands of sinners. Rise, let us be going; see, my betrayer is at hand.'

Matthew 26:45-46, ESV
It is a difficult concept to ponder – Jesus wanting company, Jesus wanting His friends to be near Him as He struggled with conflict in prayer. We can't fathom Him wrestling with His will about doing His Father's will. After all – He was God.
But Jesus was also man. The Man, Jesus, knew taking on the sins of the world meant separation from His Father. Asking for that must have felt like more than He could bear. Jesus needed His friends to pray with Him, to be near Him. We, too, have experienced the need of friends praying with us.
But they fell asleep…and one could ask, who could blame them, really? It was Passover Celebration. They were exhausted. Jesus was doing and saying strange things to them, (He actually washed their feet!) Now He, their Teacher and Master, was behaving as though He was troubled about something. The cumulative effect was overwhelming to the point of – well – physical shutdown.
What Lay Ahead
If the Holy Spirit decided to run a video of me revealing each time I fell asleep, either literally or figuratively, when He has instructed me to pray, I would be deeply ashamed. Or what about the times I told someone else I would pray for them and then forgot?
However, the beauty of this story is not that Jesus berated the disciples or shamed them. Aside from inviting them to join Him as His friends, He was attempting to warn them. They still needed to learn that only through prayer would they be prepared to face what lay ahead; that night and the days to come.
Because without prayer, we are powerless, (Romans 6:6; Ephesians 6:10-18). Without prayer, we can be reckless.
What better example can I offer than Peter? Peter, who had been snoozing, was still rubbing the sleep from his eyes when traitorous Judas arrived with the band of soldiers and officers of the chief priests and Pharisees to arrest Jesus. Despite repeated warnings from Jesus, like us, unprepared Peter did not expect the lightning strike of the serpent. Therefore, he responded in his flesh…
Then Simon Peter, having a sword, drew it and struck the high priest's servant and cut off his right ear. (The servant's name was Malchus.) So Jesus said to Peter, 'Put your sword into its sheath; shall I not drink the cup that  the Father has given me?'

John 18:10-11, ESV
Reckless
Sometimes recklessness can feel like boldness. Peter probably felt courageous pulling out a sword to protect Jesus! However, Jesus rebuked him and healed the ear. Had Peter been in prayer, He would have known the mission of our Lord.
We're no different. We can mistake courage and boldness for recklessness, but in our hearts, we know. How do we know? If we have a relationship with the Father, and His Spirit lives within, He isn't going to keep it a secret, girl! Believe me! There will be no peace within.
Without prayer we respond to shame and failure with sin and denial.
Without prayer, we respond to shame and failure with sin and denial. But if we have a relationship with the Father, He isn't going to keep silent! He will guide us! Click To Tweet
Purpose for Prayer
Then they seized Him and led Him away, bringing Him into the high priest's house, and Peter was following at a distance. And when they had kindled a fire in the middle of the courtyard and sat down together, Peter sat down among them. Then a servant girl, seeing him as he sat in the light and looking closely at him, said, "This man also was with him." But he denied it, saying, "Woman, I do not know him." And a little later someone else saw him and said, "You also are one of them." But Peter said, "Man, I am not"…another insisted, saying, "Certainly this man also was with him, for he too is a Galilean." But Peter said, "Man, I do not know what you are talking about"…and the Lord turned and looked at Peter…and he went out and wept bitterly.

Luke 22:54-62, ESV
What a revealing picture we have here! Peter, missing Jesus' purpose for praying, behaving recklessly, now following at a distance. He's ashamed and frightened; he's feeling like a failure.
Then Peter, brash, impetuous, proud Peter denies his Lord and Master… not once, but three times – the same number of times that Jesus reminded him to pray.
Can we dare not pray, dear sisters? Do we dare risk living without God's discernment in this present evil age?
How can we take the chance of our daily actions becoming reckless? And risk denying our Lord?
There is too much at stake.