We often look at plateaus with a negative connotation, but all they are is room for growth. Why are they room for growth? Because they represent an opportunity to change. 
---
---
We all hit plateaus. We all have days, weeks, even years of no movement. Are you standing still right now? I am. In several aspects. Spiritually. Relationally. Mentally.
Plateaus
I recently wrote a memoir about my struggle with anxiety for an English assignment. I used an analogy that these challenges we face are like injuries. The healing process builds thicker skin. In our case, stronger faith. It is another disguised challenge put in place to strengthen us.
How, then, do we make it easier to face? How do we look beyond the disguise and see what God is revealing and showing? That's a tough one. I think in the simplest terms we must trust. Trust that God's not done with us. Trust that when God says He doesn't leave us where He finds us, He means it.
How do we remain hopeful that there will be another uphill? To be truthful, I have no idea. But, I would love to journey through it with you. Let's find the answer together, as I march through my own personal plateau…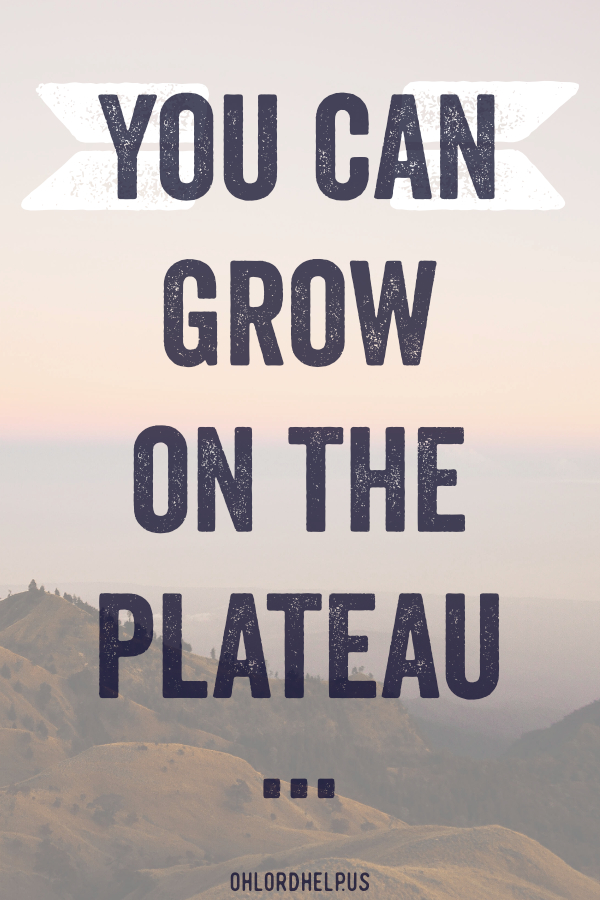 True Confessions
For about a month now I've been having a constant "off day" if you know what I mean. I've had a couple of rough panic attacks and long-lasting moments of anxiety. Smelly teenage boys have somehow wiggled into my priority list and I cannot focus for the life of me! For example, in the midst of that last sentence, I looked up for really no reason at all and got completely distracted by a cloud floating by through the window.
Where is the self-awareness and realization that something outside has crept inside?
I still experience anxiety to an extent, but this elongated unassuredness has certainly shown to be more than an episode of my chemical brain structure. I've also begun to show unhealthy eating habits, and I can't seem to stay awake for a whole day despite the 8+ hours of sleep I get every night. What the heck?! It's quite frustrating. Compared to who and where I was seven months ago, I was in tip-top shape. So why the change?
Always Moving
I took for granted the high ground I'd worked so hard to reach. I lost focus on God's role and I lost sight of the bottom I'd once stood on. And I only allowed myself to see that I was going nowhere. Something I need to remind myself of, and that I'd implore everyone to remember is, when you hit these seasons of flat ground, you're still moving forward. You're still going.
What's going on in your life that you've unintentionally neglected? Or deemed not as important? For me, I need to take care of myself more (in light of how God sees me). I need to allow myself room to feel things I think I should or shouldn't feel. I'm trying to suppress feelings I don't want to feel. Then they pile up waiting to be felt. If I were on the flip side and someone came to me with this challenge, how would I respond? Would I offer grace? Of course! Then why is it so hard for me to accept?
And we urge you, brothers and sisters, warn those who are idle and disruptive, encourage the disheartened, help the weak, be patient with everyone.

1 Thessalonians 5:14, NIV
All the Feels
I'm piling things up instead of dealing with them. Instead of appreciating the place I'm in, I've taken it for granted and now I seem to be in another valley. Ladies, feelings are a piece of work. But what does God have to say about all these feelings? Let's look back at the Bible.
The heart is deceitful above all things, and beyond cure. Who can understand it?

Jeremiah 17:9, NIV
Well, that's a bit intense. The verse is intense, but what is the context? Where do I find myself in the midst of God's promises and Christ's hope for me? Not the whole world, but me. Is what I'm going through just a couple bad pieces of fruit or is the root system bad? How do I reach out to ask for help? God understands my heart. He understands my need for crying out and people to cry out to.
Reach Out
May the God of endurance and encouragement grant you to live in such harmony with one another, in accord with Christ Jesus, that together you may with one voice glorify the God and Father of our Lord Jesus Christ.

Romans 15:5-6, ESV
In harmony. I love that. Different notes working together to make one beautiful sound. Millions of image bearers working together for one glorious King. How then do we hold back our struggles? We serve a loving, caring God who has given us loving, caring people with which to share our struggles. When you hit these plateaus, because you will, and when you walk through these valleys, because you will, who are you reaching out to? Are you surrendering to your pride to receive help? Please, reach. I know I wouldn't be where I am today if not for the community God's placed me in. Reach out.
We serve a loving, caring God who has given us loving, caring people with which to share our struggles with. In harmony. When we hit plateaus, all we need to do is reach out! Click To Tweet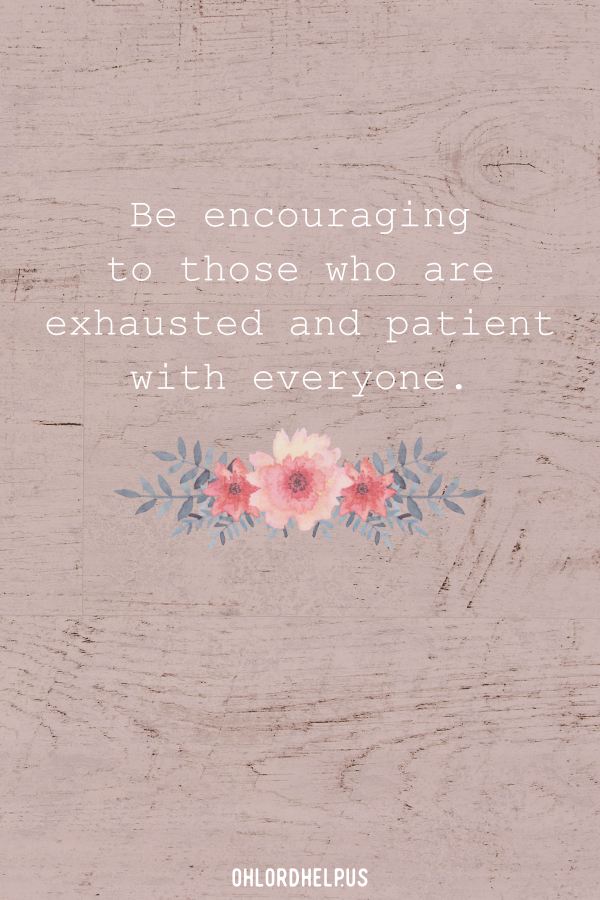 Ronald Baars