As believers, we are pilgrims in the world but are not of the world. We must embrace this identity to truly follow Christ.
---
---
Dearly beloved, I beseech you as strangers and pilgrims, abstain from fleshly lusts, which war against the soul.

1 Peter 2:11, KJV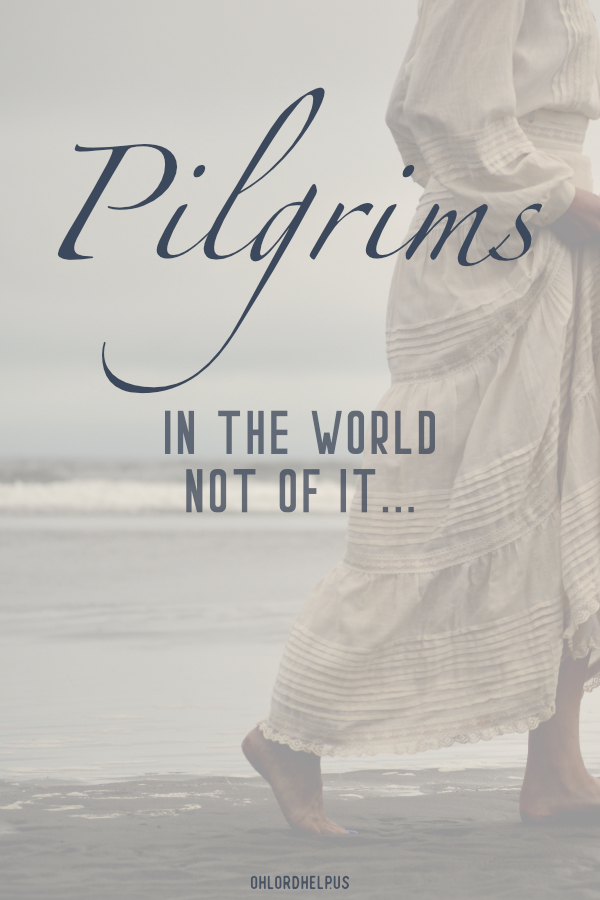 Pilgrims in the World
Recently my sister in law made an intriguing comment. She was recounting a simple, yet profound statement that her pastor had made to their congregation. He told them that, as believers, if they do not feel out of place in this world, they could be headed for trouble. If they always feel at home in the world, perhaps they're trying too hard to fit in.
Her pastor was encouraging them to live as Christ instructed His followers to live: as pilgrims passing through. Ultimately, her pastor's point was that, as believers, we are called to be in this world but not of this world. So, if at times, we feel out of place, most likely we're actually doing something right in our walk of faith.
If ye were of the world, the world would love his own: but because ye are not of the world, but I have chosen you out of the world, therefore the world hateth you.

John 15:19, KJV
Leaving Egypt
A few years ago, I found myself in a situation where I truly felt out of place in the world, even among some believers. I had earned a Master's degree in Social Work and had worked as a community organizer and advocate to empower people in poverty. My husband had a degree in economics and owned a small business as a general contractor for high-end residential projects.
By all accounts, we were doing pretty well in this world. We were establishing successful careers, building a large community, and just generally enjoying life's pleasures. But our faith in the Lord was small. He was about to completely dismantle the safe, little life we had arranged for ourselves through our own pride and strength.
Just like the Israelites, little did we know that we were embarking on a pilgrimage out of Egypt into the wilderness. Over the span of about two years, our careers, our community, and really our entire life changed drastically. After having our first child, my husband and I prayed and asked the Lord whether I should go back to work or stay at home to care for our baby…
It became very clear that I needed to resign from my salaried position with a large nonprofit. There went a big chunk of our steady, reliable income along with our health insurance coverage and my professional identity.
Questions…
About a year later, a number of times in prayer, my husband had heard from the Lord that it was time to close his small business. His company was our family's only source of income. So, he was naturally resistant. And we had a second child on the way. These things did not make sense to our natural minds. And I had a lot of questions.
Why was the Lord calling us away from the careers we had been working so hard to establish? What would we tell our friends and family? How could He expect us to walk away from our only source of income? What about the mortgage? How would we feed our family?!
The Lord was trying to show us that our earthly provision was not secure. He was our provider and the source of our security, financially and otherwise. So, after a great deal of discussion, prayer–and quite a bit of fear and trembling–we decided to follow Christ's instruction to close my husband's business.
Pilgrims in the Wilderness
For the next year, we became pilgrims wandering in a financial, spiritual, and emotional wilderness. Stripped bare of all our earthly identities, we truly began to learn what it felt like to be outsiders. With a baby and a toddler in tow and no source of steady income, we were living in the world, but we did not have the means to be part of it. We could barely even explain what we were going through to ourselves, let alone to our friends–many of whom were not believers.
We tried to share our hearts with people in our church and fellowship groups, but even to them, the choices we were making seemed foreign. I often felt completely isolated and alone. Watching the world go on about its business, I felt as if I were orbiting just slightly outside of their circles. Despite the fact I was following the Lord and growing in my faith, a part of me was still desperately wanting to fit in. To re-enter the world's normal orbit and simply go with the flow.
A Peculiar People
But ye are a chosen generation, a royal priesthood, an holy nation, a peculiar people; that ye should shew forth the praises of him who hath called you out of darkness into his marvelous light.

1 Peter: 2:9, KJV
As believers, we are indeed a peculiar people. Pilgrims from a kingdom that is not of this world. Part of being a pilgrim passing through is following Christ, even when He calls us to say or do things that don't seem to make sense to the world. And Beloved, this can be a tough and lonely row to hoe. The world might look at our faith and call us unreasonable, irrational, irresponsible, even crazy. Because faith is not their paradigm, reason is their religion.
I'm not saying that believers should not act according to reason. But sometimes what the Lord calls us to do can feel like it doesn't make any earthly sense. Sometimes there are spiritual steps of faith that we must take in order to follow Christ. We have to learn to trust that even if those steps don't make sense to our natural mind, they are still the right ones to take.
We can't let our faith be swayed by what others–in the world or in the church–think of us. And if we're faithful and obedient to follow His leading, we will see there is a rhyme and a reason to how and why He takes us in certain unlikely directions.
Sometimes there are spiritual steps of faith that we must take in order to follow Christ. We have to learn to trust that even if those steps don't make sense to our natural mind, they are still the right ones to take.
Click To Tweet
Rebuilding
Honestly, our wilderness season was one of the most difficult and frightening times of my life. Yet during that pilgrimage, my faith in the Lord and my trust in His goodness grew exponentially. I saw Him move in miraculous ways on behalf of our family. We went without many things that the world calls necessities. But we never starved, and we always had clothes on our back and a roof over our heads. Ultimately, the Lord had taken us on a journey out of the worldly system and into the wilderness. And today we are living in what feels like a promised land where we can rebuild what was lost.
We are once again establishing our careers, but this time, we're doing so according to the gifts and callings that He has placed on our lives. We're building community, but now we're doing it intentionally with other believers who are on their own pilgrimages. And we're enjoying life again, but not just for the earthly pleasures that the world offers. Now we're experiencing the true joy that only Christ can bring. I get the sense that this is only the beginning of what He really has in store for our life.
From Pilgrims to Citizens
Our pilgrimage made no earthly sense at the time. In retrospect, however, I can see how the Lord perfectly orchestrated each step of faith. I feel so thankful that He considered us worthy of having that experience. It made me realize that I do not need the world.
But it also showed me how desperately the world needs Christ. Now I can show Christ's love to a world that is lost, even when they feel like they are at home. Somewhere deep down, they want and need to be found. They long to know that they are not alone. That there is a real, lasting place for them. That is the beautiful offer of the gospel: to be pilgrims in the world for a time but to belong for eternity.
Now therefore ye are no more strangers and foreigners, but fellow citizens with the saints, and of the household of God.

Ephesians 2:19, KJV
When have you truly felt like a pilgrim in the world? How have you balanced living in the world but not being of it?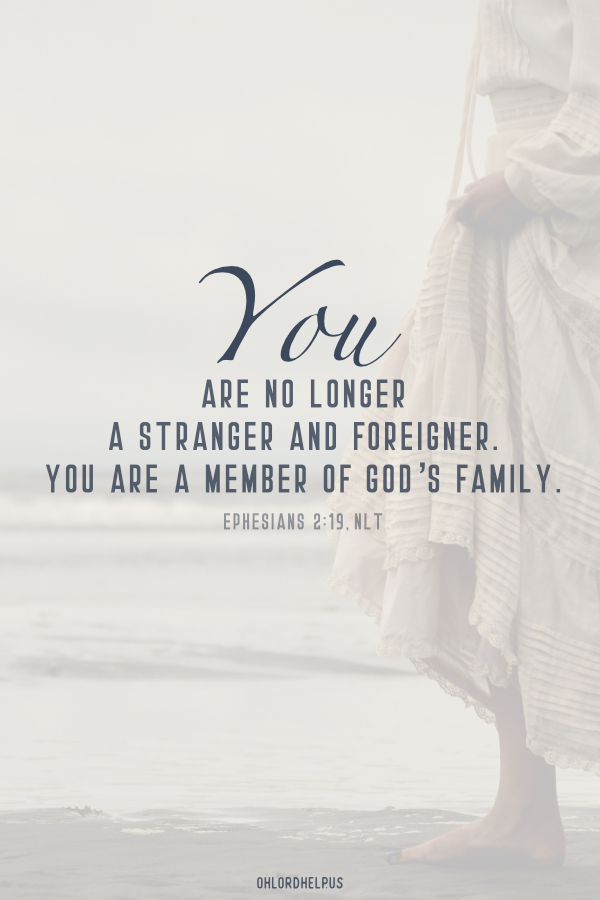 Esther Ann