Jesus calls us to peacemaking, which we should not confuse with peacekeeping. Our actions should spread the peace that God has given us.
---
---
I've always thought of peacemaking as kind of my thing. I like everyone to be happy, and I want things to go smoothly. My mom and I often say we prefer a boring life because we equate a boring, smooth life with peace. We often quip that it is much better than the alternative. It's better to keep the peace, keep things steady in our lives.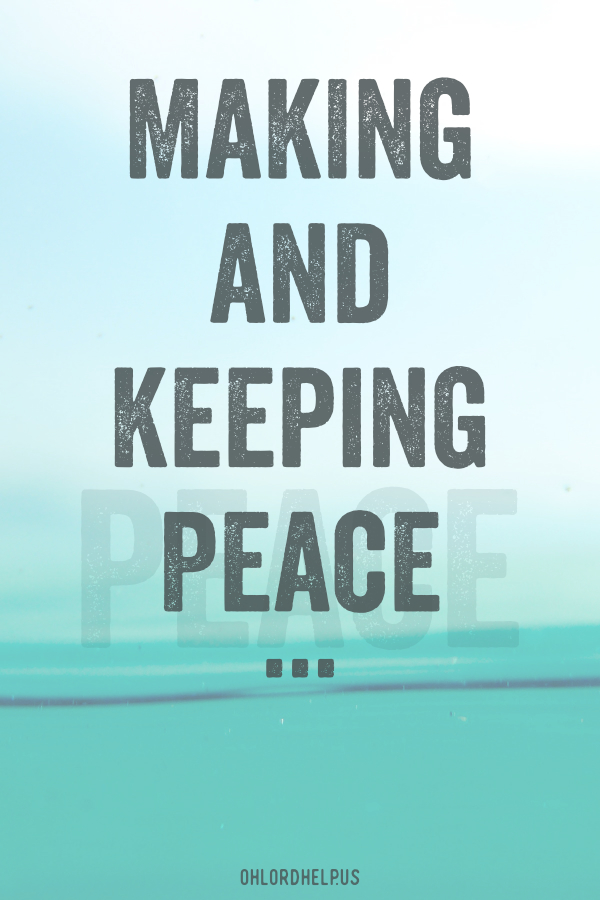 Looking More Closely
If, however, you look up synonyms for the word boring, some results include dull, humdrum, stale, and lifeless. Lifeless. Synonyms for "full of life" include bold, courageous, resolute, and passionate. The latter sounds more appealing. I would like people to describe me as courageous and resolute, but dull and humdrum are easier to maintain. True, I would like to never experience joblessness again, lose another person I love, or fight with a friend. At the same time, I know how tremendously I grew through my unemployment, how the lives of those I've lost have impacted my life and character, and how rewarding it is to fight for a friendship that is important to me.
Still, it's easier to shoot for boring. Stay silent. Keep the other person content while you bury your hurt or resentment. Just let the status quo remain.
Peacekeeping is an Illusion
This is the very picture of peacekeeping. You keep everything the same, even if growth needs to happen. You keep everyone happy at the expense of your own emotional well-being. Kept things, however, aren't very useful. If you keep the new television you bought in its box, how will you watch it? If you keep a dog in a kennel, how will you enjoy playing with it?
As humans, peace seems like this ultimate ideal objective that is unfeasible. We joke about the stereotype that beauty pageant contestants answer questions about what our society needs most with "world peace." The mom memes suggest that we can find some peace either locked behind a bathroom door or at the bottom of a glass of wine.
Peacemaking According to God
What if we examine what God says about peace and peacemaking? I think it's safe to say we know that God doesn't expect us to make peace on earth by isolating ourselves or finding a little relaxing "me-time."
I have told you all this so that you may have peace in me. Here on earth, you will have many trials and sorrows. But take heart, because I have overcome the world.

John 16:33, NLT
The world would have peace to be an idyllic beach vacation alone or with your husband, where there are no limits. Just take the famous slogan, "what happens in Vegas, stays in Vegas" and apply it to your vacation locale of choice. There is nothing wrong with getting away from your everyday life once in a while, but you have to know that you will return to it at some point, and all the constraints, stressors, and responsibilities will be waiting for you. If that's the case, if the peace is so temporary and passive, then it's likely in opposition to the more kinetic idea of peacemaking.
His Gift to Us
In reality, we do not have to search for peace. Jesus told us in scripture that He has already given it to us, and it is actively ours whether our day is moving forward at a leisurely amble or at the full-speed pace of a hill sprint.
Peace I leave with you; my peace I give to you. Not as the world gives do I give to you. Let not your hearts be troubled, neither let them be afraid.

John 14:27, ESV
We are to find peace in Him amidst our circumstances, not find peace in the circumstances He gives us because it is already with us.
Daniel found peace in the lion's den because the Father was with him. Shadrack, Meshach, and Abednego found peace in the fiery furnace because God was with them. Stephen radiated peace as he was seized, and had the peace to ask God to not hold his very own brutal death against his perpetrators because God was beside him the entire time.
In each of these examples, the men in question could have easily kept the peace by quietly loving God, but outwardly following the desires and commands of others. They, however, chose peacemaking over their own comfort. At risk of their own peril, they knew that the gift of peace can only be provided by the one true God. It was more important to make peace in a volatile world than keep the illusion of peace to themselves. They knew peacekeeping would keep people from experiencing the infinite gift that faith in the God the Father, God the Son, and God the Holy Spirit gives us.
Authenticity of Peacemaking
Ultimately, to experience the peace that Jesus left us with, we have to stop searching for a peace defined by lack of conflict, busyness, and stress. These are all conditions of living among other people in a demanding world. Do not avoid conflict if you are also avoiding shining God's light or spreading His Gospel. Embrace the peace He gives you. Make peace by drawing others closer to Him — show His light in your life through peacemaking.
Let us strive to be that light on a hill that shines outward and downward, driving the darkness away, making peace in a dissident and tumultuous world.
How beautiful upon the mountains are the feet of him who brings good news, who publishes peace, who brings good news of happiness, who publishes salvation, who says to Zion, 'Your God reigns.'

Isaiah 52:7, ESV
Embrace the peace He gives you. Make peace by drawing others closer to Him — show His light in your life through peacemaking.
Click To Tweet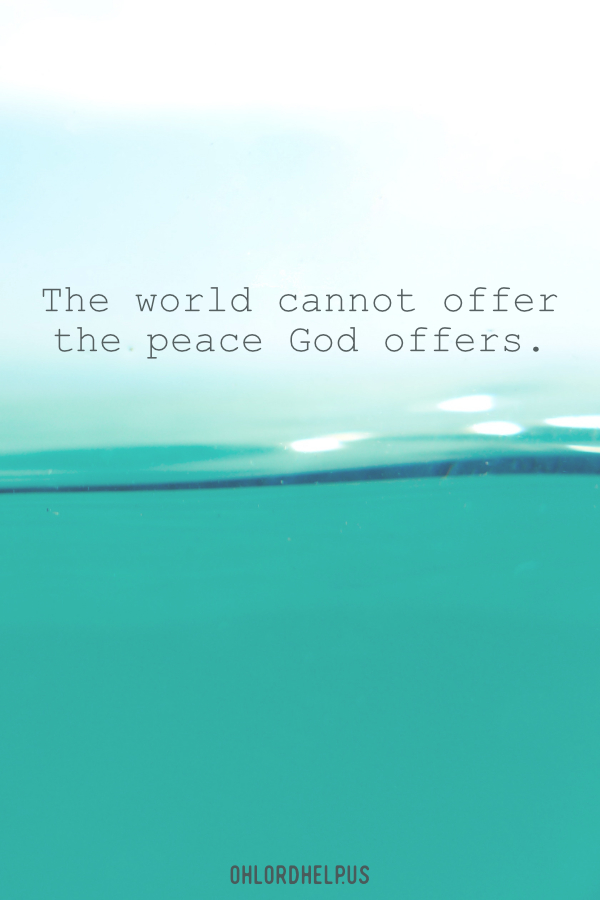 Linus Nylund