Taking risks is scary, but in order to live a bold life, taking risks is often necessary. Thankfully we have the freedom to take risks, and this is why…
---
---
My daughter's recent birthday inspired lessons on fearlessness…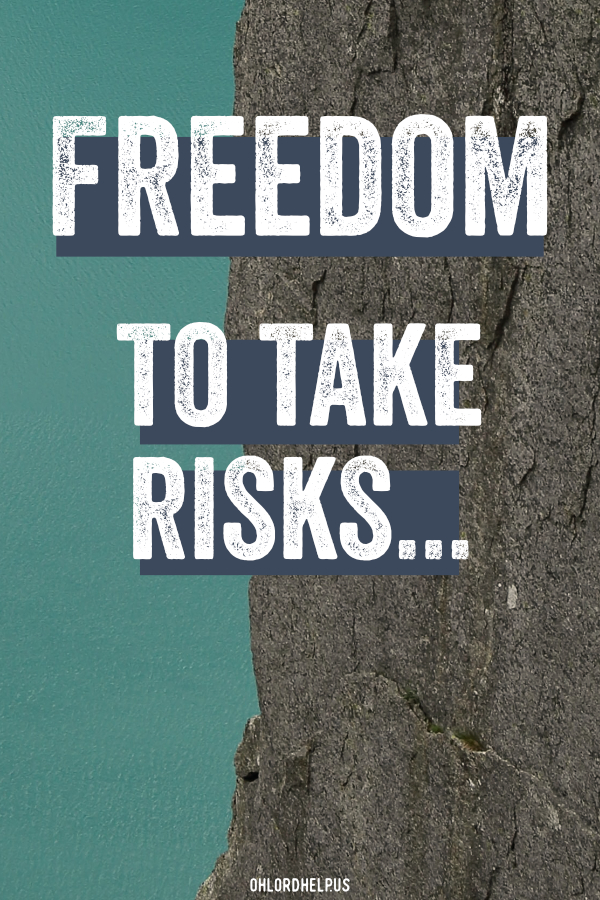 My Girl
Y'all, let me tell you about my little girl. She is absolutely the brightest part of my day. I am crazy about my boys, but I am gushy with her! The moment I go to get her up in the morning, she is beaming with joy. When she comes down the steps, she greets everyone with "g'mornin'!" Wherever we go she says "hello" to anyone and everyone we pass, and waves her farewells when we leave. She spreads joy like it's jam.
She also will have a meltdown when I take the spoon that she was handing me. She knows she needs help, but desperately wants to do it on her own. She has begun to refuse to hold my hand on the sidewalk and goes noodle limp when I make her hold my hand in the parking lot. She's the only child of mine who has been in trouble for hitting another kid in childcare at the YMCA.
At 8 months old, army crawling around the house, she would smile at me while she did something she knew she shouldn't. She still does this, and it drives me bonkers. She will yell at her brothers if they are touching something that she has determined should be hers. Heck, she yells at me if I have my hands on the shopping cart where she doesn't want them.
Taking Risks
She is also fearless. She is the one who will try to climb out on the roof. She is the reason I'm feeling nervous that there is a second-floor balcony over our foyer. She is why I cannot relax at the pool. She knows how to get out of the puddle jumper, and she will jump right into the pool. Lord help me.
I even dunked her underwater in hopes that it would discourage her from going in alone. Did it work? Nope, she thought it was fun! When we were at the beach, she dove face-first into the waves. Only because she didn't care for the saltwater, did she not try that again.
As much as her boldness and strong-will tire me out, I love it. I want to live with that kind of fearlessness, just without so many melt-downs.
The Freedom
In my attempts to "warn" my daughter about the water, I think I actually emboldened her. By dipping her under the water, and bringing her up, she knows that she can trust me. By letting her dive face-first into the ocean surf, and then scooping her up, she knows that she can try new things (even if she doesn't want to do it again).
I could have kept her away from the water, but I wanted her to experience it within my grasp. I was ready to "rescue" her, anticipating the dive. I want her to live fully, and be willing to take risks.
Boldly Living
This is how we can live boldly in life. Trusting that the Lord will pick us up when we fall. He doesn't keep us from falling. Then we would never learn how to swim. We are free to take risks because we can trust that when we fall, we will be met with compassion, and a deeper intimacy in knowing who the Lord is, and who we are.
One of my favorite songs to run to is "You Can't Stop Me" by Andy Mineo. Yes, I run to rap. Yes, I rap out loud with my hands in the air. And yes, I'm a scrawny little white girl. Anyways… there is a line where he says, "My God is good, He is not safe." This is how I want to live. Not safely, but boldly. I've experienced a deeper life with the Lord by taking risks. Yes, it is uncomfortable, but I am not willing to trade it for safety.
I want to dive face-first into the ocean.
We are free to take risks because we can trust that when we fall, we will be met with compassion, and a deeper intimacy in knowing who the Lord is, and who we are.
Click To Tweet
From the Editor…
Republishing Rachael's words sparked some inspiration to dive into God's Word. As I searched and read on living boldly, Ephesians 3:11-12 stood out to me…
This was his eternal plan, which he carried out through Christ Jesus our Lord. Because of Christ and our faith in him, we can now come boldly and confidently into God's presence.

Ephesians 3:11-12, NLT
Isn't this the boldest action we take? Allowing Christ to save us, accepting His sacrifice, professing Christ as King, and surrendering our lives at the throne of God. This gift of salvation is the biggest, safest risk we take in this life. We are bold because HE is bold.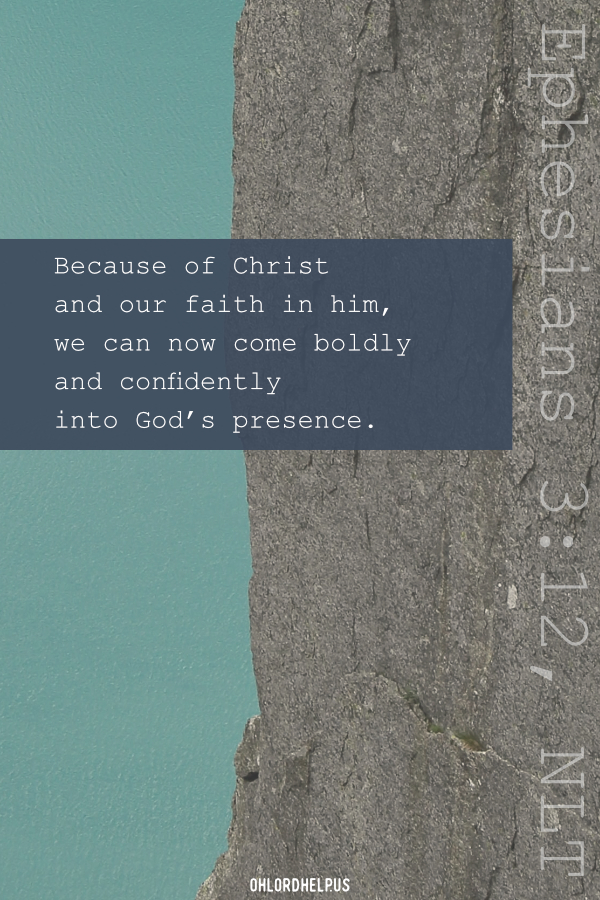 Maksim Shutov