When we choose to dwell on the struggles of this life, we can easily become burdened. A simple 'thank you' releases these burdens through gratitude and thanksgiving to God.
---
---
Therefore, since we are receiving a kingdom that cannot be shaken, let us be thankful. By it, we may serve God acceptably, with reverence and awe,

Hebrews 12:28, CSB
We have all had days that start off on the wrong side of the bed. We wake up to instant chaos and all things wrong, knowing it's an extra cup of coffee kind of day… only to find we forgot to buy more coffee at the store.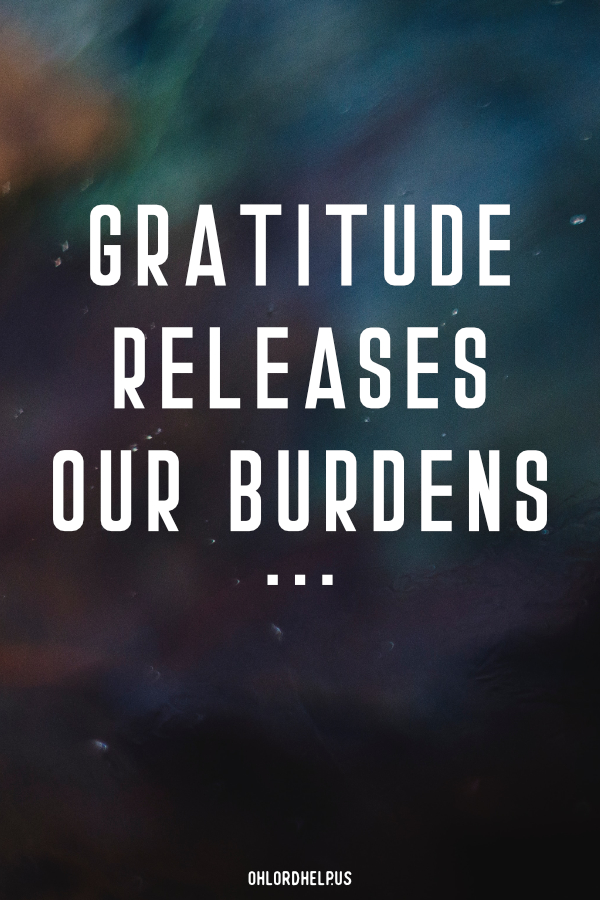 The Burdens Are Real
I have had so many days like this! At this point, I feel like they have become my normal routine. Children wetting the bed at 5:30 A.M., an hour before the alarm clock goes off. Someone getting sick on a day I have tons of errands to run. Forgetting the keys as I walk out the door, only to find I locked the door before shutting it.
Getting in the car to take kids to school and suddenly realizing I never filled up the car with gas the day before. Yep, it's a miracle I'm able to write and share this with you today. But hey, God has a sense of humor, and I like to think He includes my life in it. Whatever helps me cope, right?!
Point being, we are all faced with messes we have to clean up. We are constantly greeted with unexpected frustrations that try to get the best of us. At any moment we may choose to drop it all and have our own fallout, pity party, adult tantrum; wishing all these burdens would magically just go away. At least, that's how I feel most days. I realized my soul was struggling inwardly to understand how to receive peace the way Jesus spoke of in John 14:27.
Peace I leave with you. My peace I give to you. I do not give to you as the world gives. Don't let your heart be troubled or fearful.

John 14:27, CSB
The Inward Struggle Is Real
We all have asked this question at one point in our lives or another: What's the point of all this? Every day has the same repetitive issues while juggling a whole new set that gets thrown our way. The cycle of life seems never-ending, and most of the time, just flat-out depressing and exhausting.
I want to be happy and at peace, but this world seems to completely rob me of that luxury. How on earth, literally, ON EARTH, am I supposed to have joy and peace when I am surrounded by all this negativity and mess? This translation in Ecclesiastes, I think, perfectly describes how I feel most days…
That's when I called it quits, gave up on anything that could be hoped for on this earth. What's the point of working your fingers to the bone if you hand over what you worked for to someone who never lifted a finger for it? Smoke, that's what it is. A bad business from start to finish. So what do you get from a life of hard labor? Pain and grief from dawn to dusk. Never a decent night's rest. Nothing but smoke.

Ecclesiastes 2:20-23, MSG
I have a feeling I'm not alone in this way of thinking. I'm sure Solomon, the writer of Ecclesiastes, knew people would think this way too; which is why he wrote it.
Listen Carefully
I found myself in another jumbled up chaotic day where nothing was going right. I was tired, frustrated and just completely fed up with life. I woke up irritated with an extra load of laundry from a child wetting the bed; the kids were late for school and my car wouldn't start after dropping them off! Of course, I did all this without coffee because I forgot to buy more at the store. Like I mentioned earlier; it's a miracle I am able to write this!
This was just another day full of annoyances and frustrations that were causing my attitude toward my husband and kids to be very unkind! I am never a pleasant person for them to be around when I start my day like this. Somewhere in the middle of the chaos of my day, I quietly heard God whisper to me: "I am here…I am with you…I know how you feel. Go and sin no more."
I huffed and complained the whole way, but finally decided to sit down and spend time with God. I turned off all the distractions around me, and I turned on my ears to hear what He was trying to teach me through this messy day. God sweetly spoke to me; "Offer up prayers of thanksgiving child." The Lord wanted me to go throughout my day so far and find the things that went right, rather than wrong, and say thank you for them.
Don't worry about anything, but in everything, through prayer and petition with thanksgiving, present your requests to God. And the peace of God, which surpasses all understanding, will guard your hearts and minds in Christ Jesus.

Philippians 4:6-7, CSB
Follow His Guidance
And so the list began…
Thank you, Lord, for the laundry detergent that allowed me to wash my child's sheets. Thank you for the water for him to shower and the soap to get him clean. Thank you for the person you provided today to help jump-start my car when it died. Thank you for giving my husband the knowledge to know what was wrong with the car and the ability to fix it. Thank you for allowing me to have this time spent with you so I can reflect on the things that went right instead of wrong.
With every thank you I sent up, a new feeling of peace and calm were sent down. I finally understood what the Lord meant when He said…
Come to me, all of you who are weary and burdened, and I will give you rest.

Matthew 11:28, CSB
The more I offered up those prayers of thanksgiving to God, the more I felt the burdens of that day drift away. Through this, my soul found rest.
Say Thank You
We were never meant to carry the weight of life's daily frustration and stress. The whole purpose of the cross was to take those burdens away from us. Jesus took our place so we could enjoy life, not be burdened by it.
Out of my distress I called on the Lord; the Lord answered me and set me free.

Psalm 118:5, ESV
When we all sit down and really think about what Jesus did for us, how can we honestly say anything BUT, Thank You?
Today, I invite you, dear reader, to try this out for yourself. When you feel burdened by life and things seem to be falling apart around you, don't get discouraged, Friend! Instead, reflect on your day or situation, and find something to say thank you to God for. It's there. You just have to be intentional to find it.
We were never meant to carry the weight of life's daily frustration and stress. The whole purpose of the cross was to take those burdens away from us.
Click To Tweet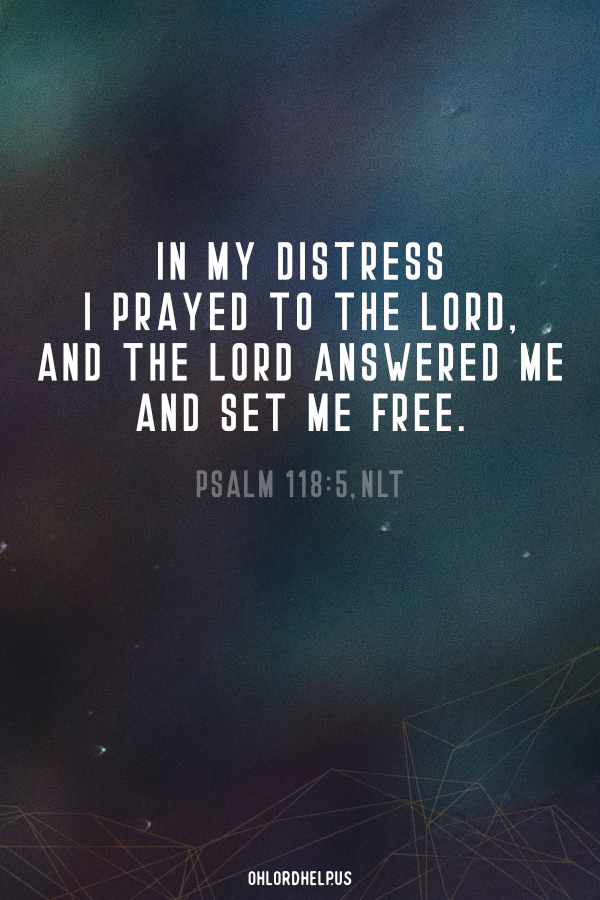 Aarón Blanco Tejedor