As born again believers, we leave behind our old, sinful nature to live in the newness of Jesus Christ. This is a choice we can make with the newness of each day.
---
---
As a new year is upon us, I imagine that many people are eagerly anticipating something new. But as with any transition, I suspect that many others are actually dreading the prospect of a new year. Perhaps there's pressure to create lofty New Year's resolutions. Many of the same problems that have plagued us for years linger still. It's just the same old, same old. Same old stressful job. Family problems. Same old debt. Weight to lose. Same old bad habits to break.
Seems as if there's nothing new to look forward to. Nothing to feel excited about. Nothing new under the sun. It won't be the simple turning of a page on the calendar that miraculously makes all things new. Beloved, when we believe in Jesus Christ, no matter the date on the calendar, there is always something new in store. And that is good news! So let's explore this notion of newness. What does it really mean to be made new? Is this a one time deal at the point of salvation, or are there new things we can anticipate each and every day?
A simple turning of a page on the calendar won't miraculously make all things new. Beloved, when we believe in Jesus Christ, there is always something new in store. And that is good news! Click To Tweet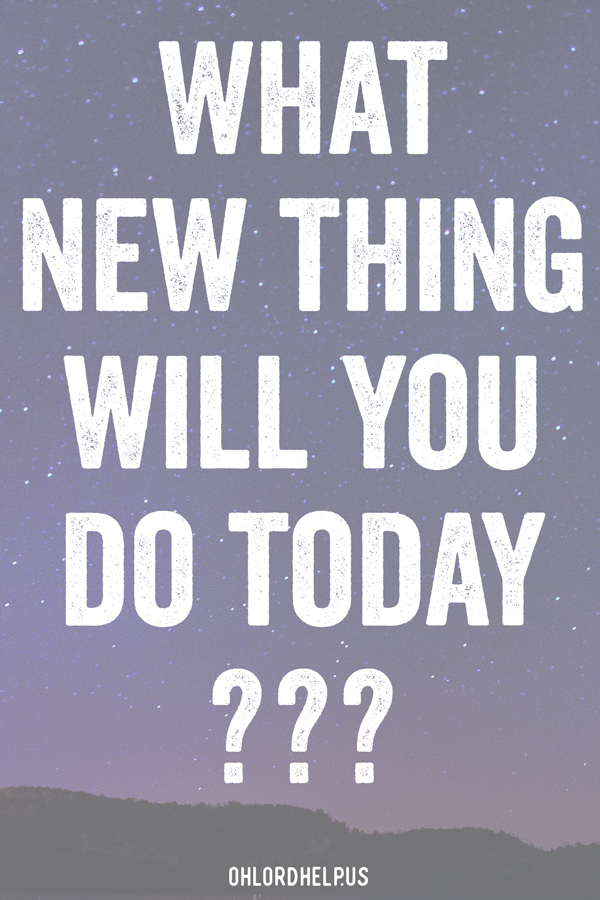 Passed Away…
First off, we need to understand that when we accept Jesus Christ as our Lord and Savior, there is a death that takes place. Our old, sinful nature must die in order for our spirit to come alive in Christ.
Therefore if any man be in Christ, he is a new creature: old things are passed away; behold, all things are become new.

2 Corinthians 5:17
When we are saved, we leave behind our old nature. Old things pass away. People often use the phrase 'pass away' as a euphemism for death. And indeed, our old self dies at the point of salvation.
As we move through each new day, and each new year, it's critical to recognize that the Lord offers us His newness. He has made us new in Him. We are no longer reliant on our own strength as we navigate this life. Born again, we now have the power of the Holy Spirit of Jesus Christ living in us. And when that's the case, anything is possible!
But Jesus beheld them, and said unto them, With men this is impossible; but with God all things are possible.

Matthew 19:26
Man's Newness…
What once seemed impossible to our old nature, is now possible in Christ. We are capable of doing new things, acting in new ways, and pursuing new dreams because we are new creatures. Leaving behind our old shortcomings and weaknesses, we get to trade in our old nature for a fresh identity: Jesus Christ. And when we make that trade, we receive all of who He is.
That ye put off concerning the former conversation the old man, which is corrupt according to the deceitful lusts; And be renewed in the spirit of your mind; And that ye put on the new man, which after God is created in righteousness and true holiness.

Ephesians 4:22-24
Much of this rebirth–from the old carnal man to the new spirit man–happens in our minds. This is why is it so vital to learn who the Bible says we truly are in Jesus. It's only when we renew our mind to His truth, that we can begin to operate from a place of true righteousness and holiness. Those old ties that bound–lust, corruption, sin–no longer have a hold on us.
A New Thing…
In order to live from this place of newness, we must also resist the temptation to return to our old ways. We can't let past regrets, old lusts, or painful memories continue to haunt us. When we dwell on those old things–which pertain to our old nature–we can miss the new things the Lord is doing in our lives.
Remember ye not the former things, neither consider the things of old. Behold, I will do a new thing; now it shall spring forth; shall ye not know it? I will even make a way in the wilderness, and rivers in the desert.

Isaiah 43:18-19
Leaving behind the former things, we are actually able to see new blessings from the Lord. When the Lord removes our blinders, and those old scales fall off of our eyes, we can clearly see the good that He is up to in our lives. This is the same God who led the Israelites through the desert, and who made rivers in that desert. These were new things indeed! When we keep our mind stayed on His truth and set our gaze on Him, we will see Him do completely unexpected things on our behalf.
New Mercies…
Beloved, if we blow it one day–or have been blowing it for quite some time–the good news is that we can always turn back to the newness of the Lord. That's what repent means. Turning back to Him. Asking Him to forgive our sins. Praying for Him to help us completely leave our old man behind. Thanking Him for giving us a new nature. His nature. Praising Him for re-making us in His image.
He is merciful and kind, faithful to forgive us. To give us new mercies. To give us a new, clean slate. Not just on New Year's Day, but every day. Because each new day is an opportunity to do a new thing when we are living as new creatures in Christ Jesus.
It is of the Lord's mercies that we are not consumed, because his compassions fail not. They are new every morning: great is thy faithfulness.

Lamentations 3:22-23
Have you left your old behind? What new thing will you do today as a new creature in Christ?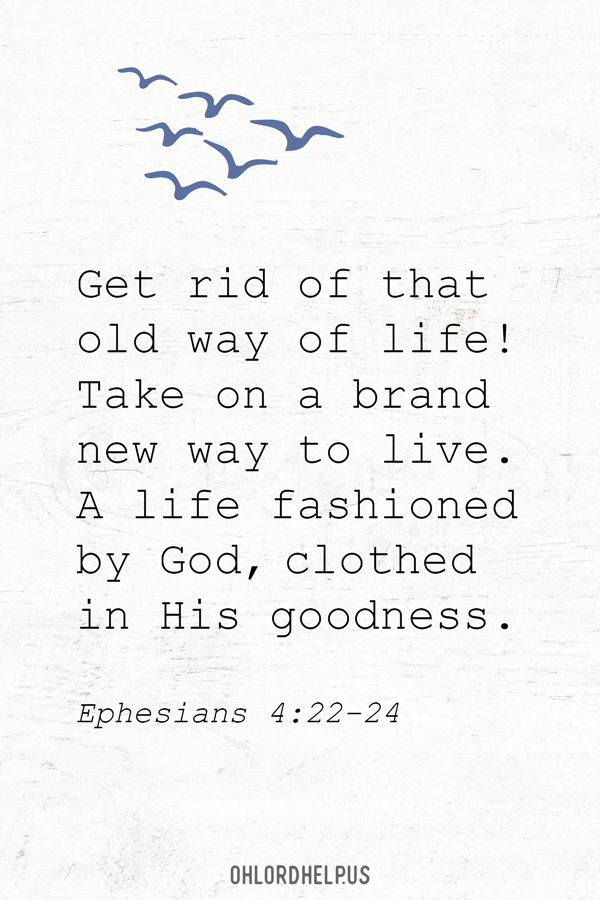 All scripture references are from The King James Version of The Bible.