Do we really know Mary? Yes, she is the mother of Jesus, the Messiah, but she is also called favored, and righteous. She sets the example of being a revolutionary, living full of God's power, and being a world changer!
---
---
"Mary, did you know…?" Picture me rolling my eyes.
CAUTION: It's possible that I'm about to ruin for you one of the most popular and beloved modern-day Christmas songs of all time. The song is soothing, melodic (thanks to Buddy Greene), and asks a seemingly pertinent question. What I'm wondering, however, is how intimately acquainted the songwriter, Mark Lowry, was with Mary's story.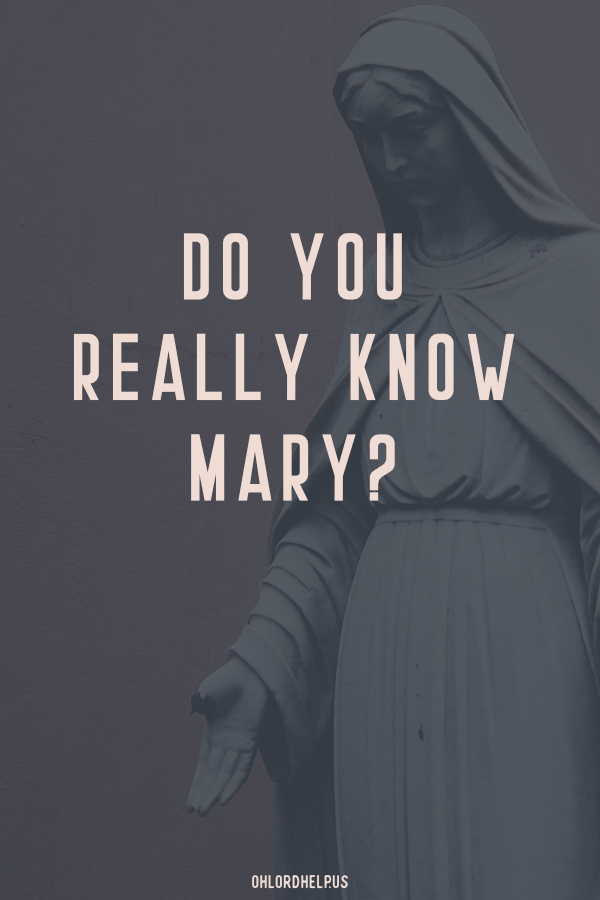 Mary: Favored
Did HE know that God sent the mighty messenger-angel Gabriel, who stands in the presence of God (Luke 1:19), to a lowly peasant girl? Did Lowry realize that Gabriel, whose name means 'God is great,' was the same messenger who caused Daniel to fall on his face in terror (Daniel 8:17), and struck Zechariah dumb for questioning his message to him concerning John's birth, (Luke 1:18-22)?
Yet, Mary, (while frightened when heralded by this magnificent angel,) was first confused that he called her favored. She was well-acquainted with her standing in Jewish society – she was poor, young, and an unmarried woman.
Favored? That word had never been used in reference to her before.
Mary: Righteous
Of course, there was the matter of becoming pregnant while remaining a virgin; Mary wondered how. Scot McKnight, author of The Real Mary, states that surely Mary was surprised at all of these happenings, but the "biggest surprise was that she consented to God's plan." Today, we have trouble grasping what she was agreeing to as an engaged Jewish girl. Her saying "Let it be to me according to your word," would have ripped her world apart. Even today, imagine telling your fiancé that an angel told you God had impregnated you…and keeping a straight face!
Not only was she offering her reputation to be ruined and exposing herself to public humiliation, but her engagement to Joseph would most certainly have been reneged. Ultimately, she knew the Torah stated that she could face stoning (Deuteronomy 22:23-24). Life as Mary knew it would never be the same.
Most Protestants have cast Mary as the silent, docile, blue-clad mother of Jesus at Christmas. For the other eleven months of the year, we don't have much to do with her because she was just some sweet girl God allowed to be the holy incubator for Jesus, right? Definitely, wrong; God isn't in the business of giving anyone grunt work, (pardon the pun). And do we truly believe the Lord God would have chosen a random, small-town teen to be the mother of His pure and only Son?
In the NKJV, Gabriel calls her "highly favored one" and "blessed among women." There is absolutely nothing random about those words. Because Mary was righteous, God chose to use her. Her faith in God gave her the courage to consent to His plan despite the suffering she would endure.
Mary: Revolutionary
Through the years, many of us have read or sung Mary's Magnificat in a choir setting. Her Magnificat is found in Luke 1:47-55. Immediately after her cousin Elizabeth, saw her, she began praising God for what He had done in Mary! (And believe me, Mary hadn't texted or emailed her beforehand). Afterward, Mary offered soaring praise to God her Savior. However, in occupied Israel, verses 52-54 could have been construed as sedition. Imagine, meek and mild Mary – a revolutionary!
Would it shock you to know that a level of concern remains in the modern world toward Mary's song in places where dictators fear an uprising among their repressed people? In fact, in the 1980s, the Guatemalan government "banned any public reciting of Mary's Magnificat because it was deemed politically subversive," (McKnight). Isn't that astonishing?
I believe we need a paradigm shift concerning our views of Mary.
Mary was gentle, but also brave… bold…
and apparently a revolutionary!
The Magnificat
My soul magnifies the Lord,
and my spirit rejoices in God my Savior,
for he has looked on the humble estate of his servant.
For behold, from now on all generations will call me blessed;
for he who is mighty has done great things for me,
and holy is his name.
And his mercy is for those who fear him
from generation to generation.
He has shown strength with his arm;
he has scattered the proud in the thoughts of their hearts;
he has brought down the mighty from their thrones
and exalted those of humble estate;
he has filled the hungry with good things,
and the rich he has sent away empty.
He has helped his servant Israel,
in remembrance of his mercy,
as he spoke to our fathers,
to Abraham and to his offspring forever.

Luke 1:47-55, ESV
How dare she utter such provocative words: He has brought down the mighty from their thrones and exalted those of humble estate. Herod had murdered for less under his bloody reign. He has filled the hungry with good things, and the rich he has sent away empty. Reckless utterances! The rich were the rulers, the powerful. With a word or nod, they could end her life.
Mary: Full of His Power
You know that sick feeling you have for a friend when she opens her mouth and spews out something at the absolute worst moment? Imagine she was stopped for speeding. You were with her. Instead of being contrite, she was belligerent. And you wish you could have slapped your hand over her mouth and said, "Woman! For the love of all that is holy, stop talking!"
That's how someone listening to Mary might have felt… only more so. Her people were powerless, had been powerless, didn't know the meaning of having power. While they obeyed the Torah, they quaked before the evil of which Herod was capable.
But she knew a greater Power. Mary knew the mighty One of Israel and believed He had come to set them free. She could not remain silent! Her faith in the Father emboldened her to follow Him onto a path that promised darkness and pain, but also mercy and deliverance. Mary stepped out into the inky unknown, resting in the palm of His hand.
Does this sound like the wallflower girl whom so many mistakenly picture Mary mother of Jesus to be? I think not. Truthfully, I doubt if Joseph's mother would have approved of Mary. She might not have been quiet or meek enough…but as Lynne Hybels titled her book in 2005, Nice Girls Don't Change the World.
What about you… Are you a revolutionary Mary? Would you like to be?