When we place money above everything else, sin takes root in our hearts. We must learn to replace our love of money for the love of God.
---
---
For the love of money is a root of all kinds of evil, and by craving it, some have wandered away from the faith and pierced themselves with many griefs.

1 Timothy 6:10, CSB
I recently read an article stating that money is mentioned more than 800 times in the Bible. Now, I have never sat down and counted the number of times it is mentioned, but I have definitely observed it many times.
It doesn't take a Bible scholar to see that the Lord wants us to know a thing or two about money. This generation is undoubtedly the most prone to wander from faith, like 1 Timothy 6:10 states. Especially when it has to do with the almighty dollar.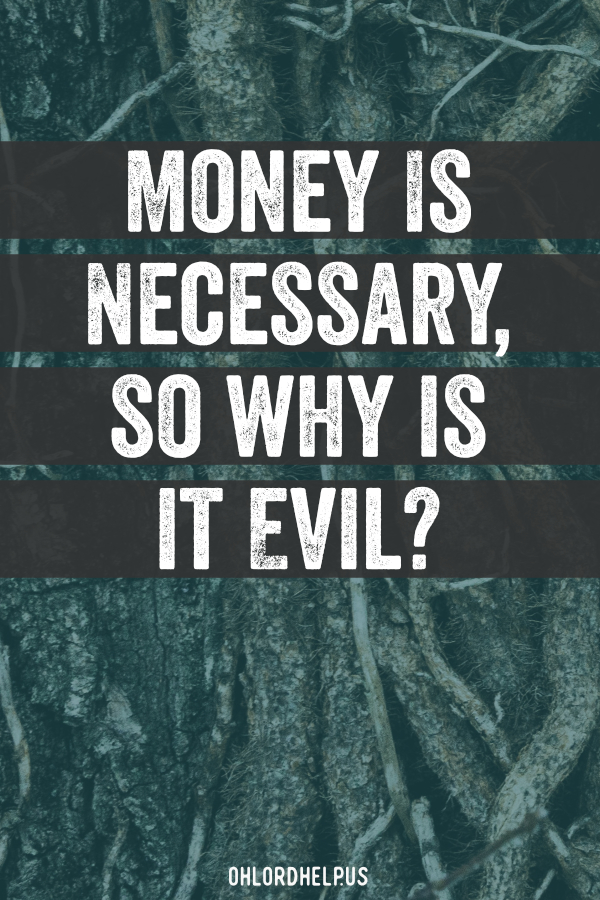 Money Makes Us Squirm
Money is widely talked about and not usually referenced in a way God intended it to be. Why do you think the majority of people squirm in their seats when the pastor preaches on money? Do you think God addressed money so many times to make us uncomfortable? Or is He trying to get our attention and make a point?
Personally, I think it's the second one. I think people are naturally uncomfortable talking about money because it happens to be the very thing that we depend on in order to live.
Think about it. We need money for pretty much anything! Food, water, clothes, shelter, medical care – you name it – it costs something. Freebies only go so far, for so long. Money happens to be the very thing that helps manage, operate, and change the world we live in for the better. Do you agree?
Plain and simple, we need money in order to live. Without it, we fall into a deep pit of despair and eventually die because we lack the necessary lifeline in order to survive. People say it all the time, "You can't live with it, and you can't live without it".
Money is a powerful source of help. It's required in order to appropriately exist in this world. I think it's fair to say we should go to God, our Creator who created all things, to see what He has to say about money…
Worthy are you, our Lord and God, to receive glory and honor and power, for you created all things, and by your will they existed and were created.

Revelation 4:11, ESV
For The LOVE
I want to dive into only one of those 800+ scriptures on money. I hope to provide some insight that the Holy Spirit gave me when I read this passage…
For the love of money is the root of all kinds of evil…

1 Timothy 6:10, CSB
Let's break the verse up so we can better understand what it means.
For the LOVE of money…
When we love something, it holds a higher value and significance over other things. This can be best demonstrated in how we view relationships with others, like our spouse or our children. We give them value and significance in our lives because we love them so much.
Putting value on money can feel as though we need it in order to live. Or, in other words, it feels like we can't live without it because it's a necessity. When we view money this way, it reveals in our hearts that we actually love it and can't live without it. Many people, myself included, have fallen in love with money without recognizing its trap!
Is The ROOT
Let's continue dissecting this verse and see what comes next.
For the love of money is the ROOT…
Our understanding of the love of money will help us better understand this second part, the root. Whenever we want to see a tree grow, we have to plant the seed in the soil and water it. Roots only take place after the seed is planted in the ground.
In this case, the scripture is showing us that the love of money is the seed that we have willingly planted in our hearts which has started to take root. A root also indicates some kind of growth is happening below the surface.
Deep inside us, we have a "money root" and we better hope it produces good fruit or we will certainly reap the consequences otherwise. Jesus taught His disciples that if they did not develop good fruit, then they would be cut off from the root and thrown into hell.
The ax is already laid at the root of the trees; therefore every tree that doesn't produce good fruit will be cut down and thrown into the fire.

Matthew 3:10, CSB
Oh, how I wish good growth was rooting in our hearts. Sadly, that just isn't the case as we'll unfortunately see.
ALL Kinds of EVIL
Now the final part of the verse.
For the love of money is the root of ALL kinds of EVIL.
This part of the verse is very interesting to me. The fact that this particular sin, the love of money, has the ability to grow and produce ALL kinds of sin within us is quite alarming.
Honestly, the last part of this scripture really had me a bit shaken up. I mean, it does say ALL, so we must conclude that God intended it to mean what it says. He is not a God of deception, but of truth. ALL kinds of EVIL begin to grow from this ONE bad seed.
Beloved, that's not to be taken lightly! You might be asking yourself the same questions I found myself asking…
How do we avoid the love of money and avert its ability to take root in our lives?
How do we keep it from potentially and inevitably causing more and more sin from within us?
Understanding Faith Like Abraham
F – A – I – T – H! That's it, my friends. Faith.
Thousands of years ago before houses, televisions, computers, phones and more; men and women lived in this world just like we do today. Sure it looked different, but people adapted to their surroundings just like we do today. I personally think they did a better job with this than we do.
They used their hands to work in the fields and they used their gifts God gave them to help each other even more. In the Old Testament, we find that people like Abraham and Sarah lived according to what God wanted, not what they wanted. If they needed something for basic survival, then they would ask God for it and trust that He would provide it.
When they needed food, God sent them food. When they needed water, He would lead them to where water could be found. If they needed shelter, then God would provide the supplies needed to build a roof over their heads. God ALWAYS showed up when they came to Him for a need.
God knew they were seeking Him first and it gave Him great joy to bless their faith. Makes sense right?
But seek first the kingdom of God and his righteousness, and all these things will be provided for you.

Matthew 6:33, CSB
Stubbornness
Just like today, there were people then that felt like they didn't need God's provision in their lives. They decided to go their own way and figure things out for themselves. Some might think people like this are brave, strong and courageous. Others may think of them as stubborn, prideful, and foolish.
Consider reading about Abraham's nephew Lot and his wife to form your own opinion on the matter (Genesis 13-14). In a nutshell, though, it doesn't go well for them. It turns out that going their own way only leads them into danger. This easily could have been avoided had they followed God instead of their own evil hearts.
So I gave them over to their stubborn hearts, to follow their own counsels.

Psalms 81:12, ESV
How Far Would Your Faith Go?
Abraham, unlike his nephew, was a faithful follower of God. Those who trusted and followed Abraham had the privilege of seeing just how real God is. Abraham found favor in the Lord because of his unwavering faith.
He never questioned or doubted God when asked to go somewhere or do something. He just simply listened and obeyed his Father's instructions. Abraham knew that God was the provider because, simply put, there was never a time He didn't provide. Each time Abraham went to God, God provided. And each time God provided, Abraham's faith grew stronger.
Abraham's unwavering faith is tested to the max, though. In Genesis 22, God commands Abraham to offer his son, Issac, on the altar as a sacrifice to Him. Abraham is clearly unsure and saddened by this, but HE STILL FOLLOWS THROUGH WITH IT! He gathers his sticks and tells his son Issac to come with him to the altar without grabbing a lamb! They walk up the mountain to the altar and Issac asks his father Abraham where the sacrifice (the lamb) was and…
Abraham answered, 'God himself will provide the lamb for the burnt offering, my son.' Then the two of them walked on together.

Genesis 22:8,CSB
Abraham blindfolds and ties up his son and lays him down on the altar to kill him. He is just about to take his son's life…
But the angel of the Lord called to him from heaven and said, 'Abraham, Abraham!'

He replied, 'Here I am.'

Then he said, 'Do not lay a hand on the boy or do anything to him. For now I know that you fear God, since you have not withheld your only son from me.'

Genesis 22:11-12, CSB
ALL IN Faith Has Its Benefits
God then provides a ram stuck in a nearby thicket by its horns for Abraham to sacrifice instead of his son Issac.
Abraham looked up and saw a ram caught in the thicket by its horns. So Abraham went and took the ram and offered it as a burnt offering in place of his son.

Genesis 22:13, CSB
Abraham's faith showed God that he was ALL IN no matter what! How do we establish that kind of faith today? No offense, but we have issues spanking our own children, let alone putting them on the altar to kill for God! Sounds crazy, but truth be told, our faith is weak because we have become weak as a human race.
We think we know best and don't feel the need to go to God for help with EVERYthing in our lives. I think this is because we have believed the same lie that Lot and his wife believed: if we follow the larger crowd (a.k.a. the world), then we will be able to make money and lead a successful, happy life. There are people out there, right now, doing this very thing and making it look so appealing. 'It's working for them, so it should definitely work for me too!' This little lie comes straight from the devil, hoping we catch it and run.
Be sober-minded; be watchful. Your adversary the devil prowls around like a roaring lion, seeking someone to devour.

1 Peter 5:8, ESV
But we believers are called to be set apart.
But know that the Lord has et apart the godly for himself; the Lord hears when I call to him.

Psalms 4:3, ESV
Replace Money With God and Receive Good
We are God's children, created to follow Him not the rest of the world. So in order to live out this Abraham kind of faith today, we must first acknowledge our need for God in our lives. By doing this we can start to follow His lead instead of our own.
When we acknowledge God as our ultimate "lifeline" in order to survive and make Him more valuable and more significant than anything else in our lives, then we can rest assured He will root in us ALL kinds of good.
God showed me something pretty spectacular in His word. When you take a look back at the one verse we used today, and change only two words in it, it takes on a whole new meaning.
For the love of GOD is the root of all kinds of GOOD.
When we live our lives putting God first and relying on Him to provide for all our needs, then God will do just that. We must replace the love of money for the love of God and surely find a life of contentment, joy, peace, purpose, and prosperity!
When we live our lives putting God first and relying on Him to provide for all our needs, then He will do just that. We must replace the love of money for the love of God and surely find a life of contentment, joy, peace, purpose,…
Click To Tweet
God Hasn't Changed
With our world changing constantly and new distractions popping up everywhere, it is extremely crucial that we root ourselves in the Lord. God wants us to live our lives in abundance with peace, knowing He will take care of us always.
God knows we need money to live, just as much as He knows we need water to live. The same God that provided for all of Abraham's needs, is the same God we serve today. He hasn't changed. His ways and words stay as they are, no matter what we choose. Even though we change daily, it is good to know that His Word stays the same.
We all need to get on our knees and acknowledge one simple and unchanging truth…
God will give us what we need when we finally accept that all we really need – is Him.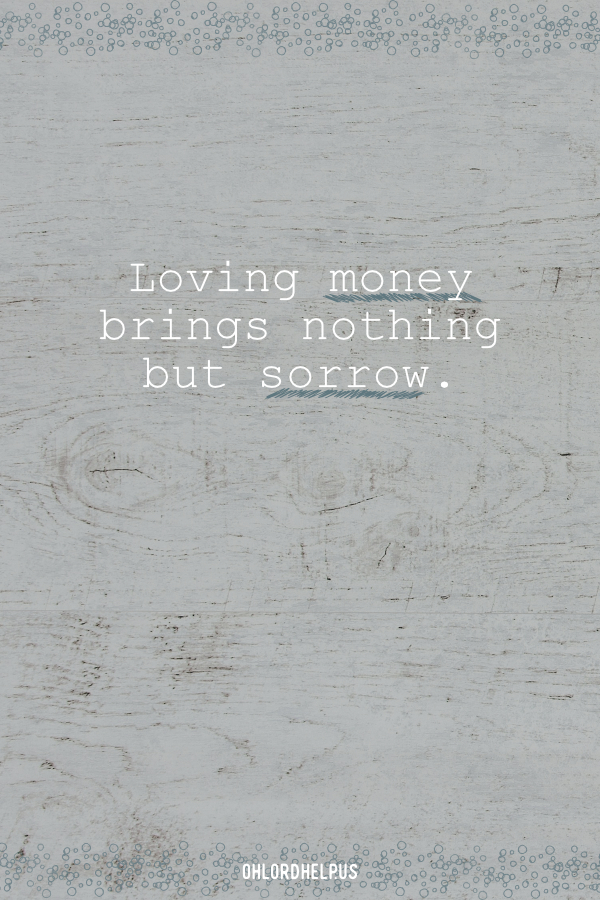 Camille / Kmile