With the hustle and bustle of the holidays, December can be a restless month for many. We long to return our souls to rest. How can we calm our hearts in the midst of all the busyness?
---
---
It's December, y'all!
Are you relishing in the cooler weather, holiday traditions, and pretty lights? Maybe you're more like me with a rush of adrenaline accompanying this month and the feeling that no matter how you try to prepare for the busyness you still always feel caught off guard by it.
Either way, it's here along with the hustle and bustle, Christmas cookies and school plays, family visits and visiting family. This time of year is supposed to be one of peace and joy. Yet so often it's easy to be short-tempered and on edge with places to go and deadlines to meet that leave us always going to the next thing.
We want to slow down and enjoy this season and remember our Savior, but the to-do list is daunting. It appears nothing can be cut from it. Let's face it. December is just plain busy and exhausting!
Return
You guys, I get it. December sneaks up on me every year. I know it's coming, but somehow, I'm never ready. My husband works for a shipping company which means, of course, this is their busiest time of year. He's always working, and we always miss him. Our daily schedule is at the mercy of his daily changing work schedule. The lack of consistency and family time wears on us all. Each year I think I'll be better prepared, though each year I find myself blindsided, unable to breathe in the midst of the busy.
How do we balance keeping the obligations and traditions that are necessary and important while still finding rest in the middle of the business?
Speaking to Our Soul
Gracious is the Lord, and righteous;
Our God is merciful.
The Lord preserves the simple;
When I was brought low, He saved me.
Return, O my soul, to your rest;
For the Lord has dealt bountifully with you.

Psalm 116:5-7, ESV
When I need to breathe again, I often go to this passage. Here, the psalmist speaks to himself. "Return, O my soul, to your rest." As the psalmist did, I must also speak to my own soul. I must reach into my hurried heart and speak the reminder "return to your rest."
Where does this rest come from? What provides rest to weary, busy souls? The rest comes in remembering the Lord's work.
Rest For the Restless Days
Before speaking to his own soul, the psalmist spoke to God's work in his life. God is gracious and righteous. He is merciful and preserves the simple. When the psalmist sunk into the depths, God saved him. He reminds his soul of this. Yes, soul, "the Lord has dealt bountifully with you." That is where his soul finds rest…in the bountiful work of his God, his Savior.
Following the example in this passage, I speak to my own soul. "Soul, rest in His work. God has dealt bountifully with you. He is faithful. The Lord keeps His promises always. He saved you and called you Daughter. Return, O my worn and weary soul, to your rest. He will refresh you."
This time of year, we remember and celebrate the birth of Christ. When we see the images of our Savior in the manger, that God-man in infant form, let us speak to our souls. Let us remind our busy minds and distracted hearts of the ways this child King has dealt bountifully with us.
As we sing Christmas carols of infinitely precious truths, let them be reminders to our souls of His gracious care of us.
While we are out and about going from one place to another to attend to our family's holiday schedules, let us keep with the example of the psalmist and breathe, speaking truth to our souls and find rest in the restless days of December.
Dear one, return, you precious soul, to your rest, for the Lord has dealt bountifully with you.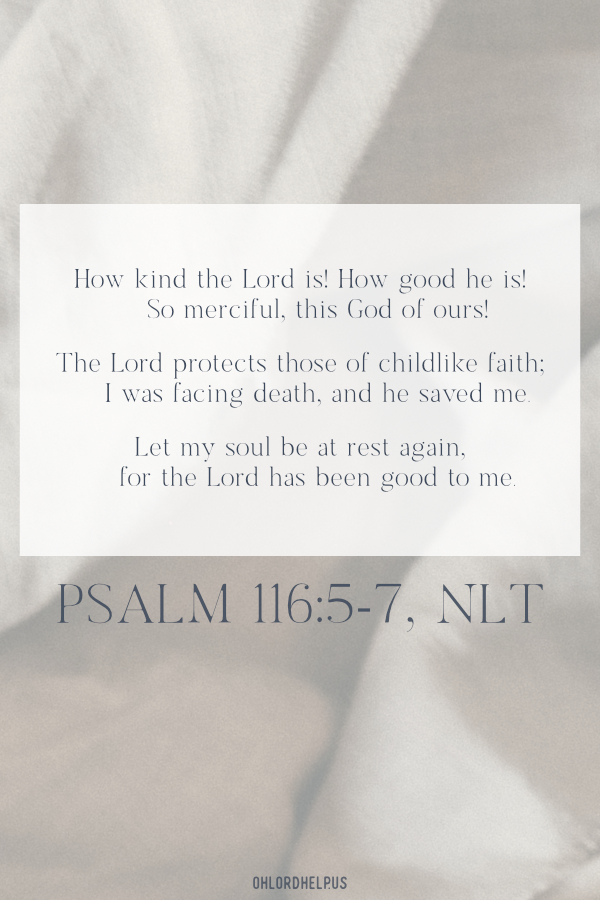 Annie Spratt