Judgmental attitudes can get in the way of the Lord's work in our own hearts. Judging others is not our job, we must take on a posture of mercy.
---
---
I was walking in my neighborhood on a beautiful, sunny day. It was a great reprieve from the winter gloom and rain, so naturally, a lot of other people were out as well. As I was passing these walkers or joggers, I said hello and smiled at them. I was a bit taken aback when 8 out of the 10 people, ignored me. Not even a courteous nod to my smile…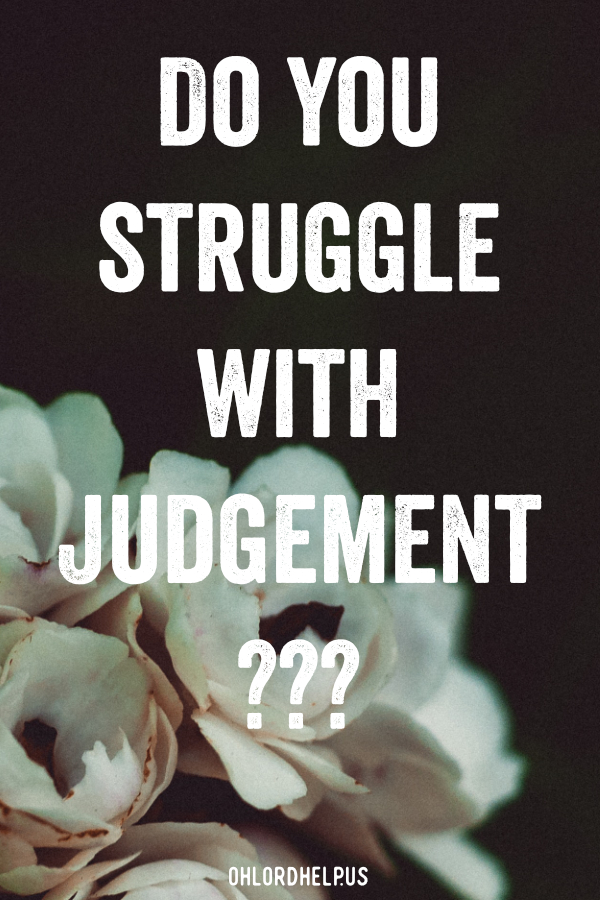 Judging
I began to get offended and thought to myself, "This world is so selfish. People won't even say hi to each other on the street anymore." I continued on my walk and as I turned back toward home, I had to face the way the people passing me had been. The sun was low in the sky and was full force in my eyes. I couldn't see anything, let alone anyone's face that was passing me. I had a moment of realization, then of shame…
How quick was I to judge the people passing me? How understanding or merciful had I been? The Lord showed me that I had been judgmental and unmerciful without a moment's hesitation.
Merciful
There will be no mercy for those who have not shown mercy to others. But if you have been merciful, God will be merciful when he judges you.

James 2:13, NLT
In Luke chapter 10, Jesus is having a conversation with one of the teacher's of the law about inheriting eternal life. The man asked Jesus who his neighbor was and Jesus told him the parable of the Good Samaritan. When he asks the man who was the neighbor to the man who had been attacked, the teacher replies, "The one who showed him mercy." Jesus replies, "Yes, now go and do the same."
This may seem like such an easy concept to grasp to some of you reading, but for me, it's been a tough one. I have a very high sense of justice, but mercy isn't on my radar like it should be. This lacking shows itself most intensely in motherhood.
I homeschool my kids which means I am around them almost all the time. So they hear and see me do some pretty messed up things. I always apologize and they are always quick to forgive. However, when the roles are reversed, I often drag out the sentencing instead of pronouncing mercy over them. I tend to point out not just the current offense, but bring up old ones as well. I feel they need to truly feel the guilt and shame of their wrongs. And, once I'm satisfied in their judgment, I will forgive and be "merciful". Bless my heart.
What if?
Honestly, I'm not even sure I'm qualified to write this today. What if I'm still struggling? Aren't we supposed to write about what we've conquered so we can pass on our wisdom to others going through it?
What if instead of wondering how I can show kindness to the girl looking uncomfortable in my church row, I'm silently judging her too short skirt and too revealing top? What if instead of loving my foster kids' biological families, I'm hoping they miss another visit so I don't have to deal with it that day? Why am I so ugly and unmerciful when God has been ridiculously loving and merciful to me?
Why are we so ugly and unmerciful to our neighbors, when God has been so ridiculously loving and merciful to us? Judging others is not our job! Click To Tweet
Saving Mercy
It's a heart issue, no doubt. I haven't truly repented; looked at my sin and despised it. Somewhere inside of me, I still feel justified, qualified, and above reproach.
Oh, how generous and gracious our Lord was! He filled me with the faith and love that come from Christ Jesus. This is a trustworthy saying, and everyone should accept it: 'Christ Jesus came into the world to save sinners' -and I am the worst of them all. But God had mercy on me so that Christ Jesus could use me as a prime example of his great patience with even the worst sinners. Then others will realize that they, too, can believe in him and receive eternal life.

1 Timothy 1:14-16, NLT
This is what I cling to and what I hope for: that God will continue to convict, mold me and shape me. That others will see even my hot mess can be forgiven. And that He has extended mercy, not judgment, to those who call on His name. Praise Him, my Savior and my God.