When we know Christ, He gives us a hopeful spirit. As believers, we are called to share the Hope of Christ with those who feel hopeless.
---
---
Now the God of hope fill you with all joy and peace in believing, that ye may abound in hope, through the power of the Holy Ghost.

Romans 15:13
Last month marked four years since my mom passed away. When she died, she was at home, asleep in her own bed. I think when most of us picture the ideal way we'd like to go to our Maker, this peaceful scenario fits the bill! But what gave me the most consolation about Mom's death wasn't the peaceful circumstances alone. It was the fact that before my mom died, she had regained something of utmost importance: her hopefulness.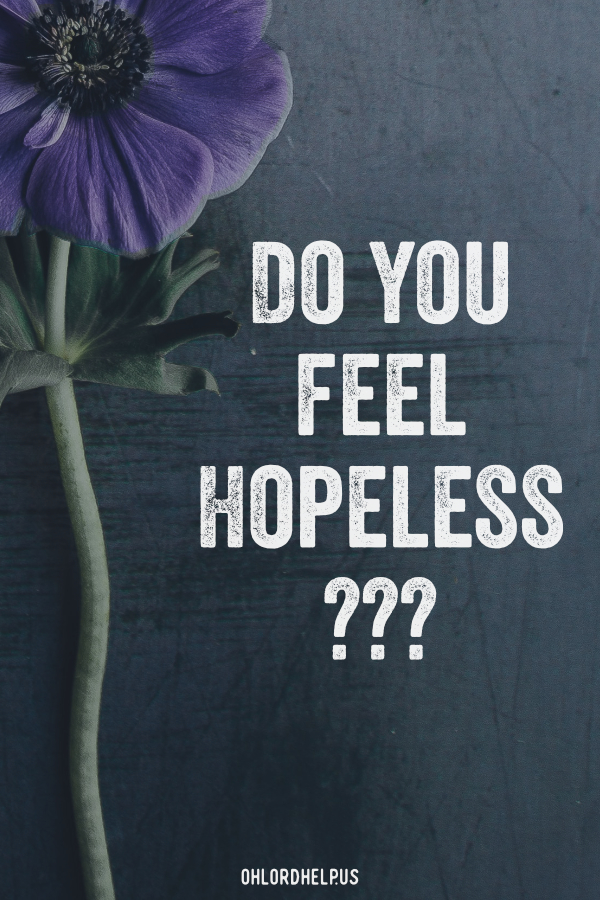 A Whiskey Addiction…
You see, a few years before she died, Mom had descended into a terrible downward spiral of whiskey addiction. Now, I'm not an expert on alcoholism. And I can't claim that when she died, she had completely sworn off all alcohol. She did still drink wine and beer, but she wasn't hitting the hard stuff anymore. In short, she was no longer suffering from the severe hard liquor addiction that had stolen her hope and had nearly taken her life just a few short years before.
The following is an excerpt from a family memoir I'm writing. I want to use it to paint a picture of the utter hopelessness that I encountered when I arrived at my mom's little, off-the-grid homestead in southern Indiana in the early summer of 2008.
The Hopeless Valley…
As I looked around the room, I quickly realized that in some ways, the pitch-black darkness of the night before had been a blessing. It had masked the complete pigsty that Mom's place had become. What once had been a pleasant little one-room country cottage now looked like a hovel where a homeless person was squatting. Surveying the room, I saw trash everywhere. There were countless Styrofoam take out containers with little bits of moldy, rotten sandwiches strewn on stacks of junk mail topped with dried puddles of candle wax and dirty napkins.
And then I saw one of the most sobering scenes I've ever seen. Behind the large fireplace– where there once had been a small passageway leading up to a little ladder staircase—now sat a huge pile of large, plastic empty Wild Turkey whiskey bottles. Too weak and lethargic to tote all the bottles outside to the burn barrel, Mom had apparently resorted to chucking them from her bedside into the little passageway. It was not as if I needed any more proof, but there it was: a mountain of sad evidence rising next to the hopeless valley into which she had descended.
Piss Ant…
Low moans and groans began to emanate from Mom's bed. Any teetotaler would have loved to tout those torturous telltale sounds of a hangover. The repercussions of the last evening's escapade were making their obvious appearance. As Mom tried to sit up to throw up into a bucket beside her bed, she saw me. It was as if she were seeing me for the first time.
"Hopey! What are you doing here?" Disturbed, I answered, "Mom, I got here last night. Don't you remember?" "What? You drove all the way up here from North Carolina?! Where are your friends?" "Mom, I told you. I came by myself." "You mean to tell me you drove all that way by yourself?" "Yes, Mom. I did." "Oh my goodness! But I told you not to come. You little piss ant! I knew you would though." Despite its foul sound, 'piss ant' actually served as one of Mom's sweeter terms of endearment. If only she had known the double entendre of that nickname, given the events from the night before!
A Hopeful Commission…
I can't recall all the things that transpired that day, or the next, or the one after that. Perhaps because I've tried to block out some of the more unpleasant details! Suffice it to say that what occurred was an awful combination of a detox cleanse, an ongoing hangover, and severe withdrawal. I helped nurse Mom through this process without the advent of indoor plumbing. Oh, how a flushable toilet, a sink, and a washing machine would have aided the effort!
To fill in the most important blank: Mom got sober, at least from the whiskey. She admitted it had gotten so bad that she had begun to give up any hope of stopping it. She hadn't been eating. And too weak to go draw up water from the well, she hadn't had anything to drink for days, besides the whiskey. She said over and over how she had just about given up all hope. But now, here I was, her Hope! And she knew that the Lord had sent me to help her. At first, I wasn't convinced of this divine commission Mom alluded to, but as the next few days unfolded, I began to hold that same hopeful belief….
Hope Deferred…
Throughout that week I spent with my mom, I truly felt the weight of the name that my parents gave me: Hope. A relatively new believer myself, I was nursing my own mom back to health. And more importantly, back to hopefulness. Mom's was a classic case of the scripture: "Hope deferred maketh the heart sick…" (Proverbs 13:12). Wallowing in years of regret, shame, and fear, Mom had reached for the bottle to drown her sorrows. But what she ended up drowning was her own hope.
Groping through the darkness in her pit of shame, she had lost touch with the Light. She had lost any hope of rescue. And as she clasped that whiskey bottle, her hope of ever being truly forgiven and loved slipped further and further from her grasp. I thank the Lord for bringing me to my mom's bedside to minister to her, both in the natural and spiritual. To remind her of who she was and Whose she was.
A Tree of Life…
The second half of that verse in Proverbs—which is so often left off—reads: "… but when the desire cometh, it is a tree of life." (Proverbs 13:12). Slowly but surely, Mom got back in touch with her desire to live and to heal. And as she reconnected with that desire, I witnessed the small hopeful seed within her grow into a tree of life. Although the last few years of Mom's life were by no means easy, I saw her transform into the happiest version of herself that I had ever seen. She became hopeful once again.
Beloved, we are called to be the hands and feet of Jesus on this earth. Whether it's our own mothers, our friends and neighbors, or complete strangers, the Lord has equipped us to help them see the Light. To help them know the hopefulness that is only truly possible in Jesus Christ. Because when we know Jesus, His hope is ever-present to help us. To rescue us. To raise our spirits back to life once again. He is the Hope that lives inside of us.
To whom God would make known what is the riches of the glory of this mystery among the Gentiles; which is Christ in you, the hope of glory.

Colossians 1:27
Have you ever found yourself in a pit of hopelessness? Is Christ your Hope? Are there people in your life who need to know that it's possible to be hopeful?
When we know Jesus, His hope is ever-present to help us. To rescue us. To raise our spirits back to life once again. He is the Hope that lives inside of us.
Click To Tweet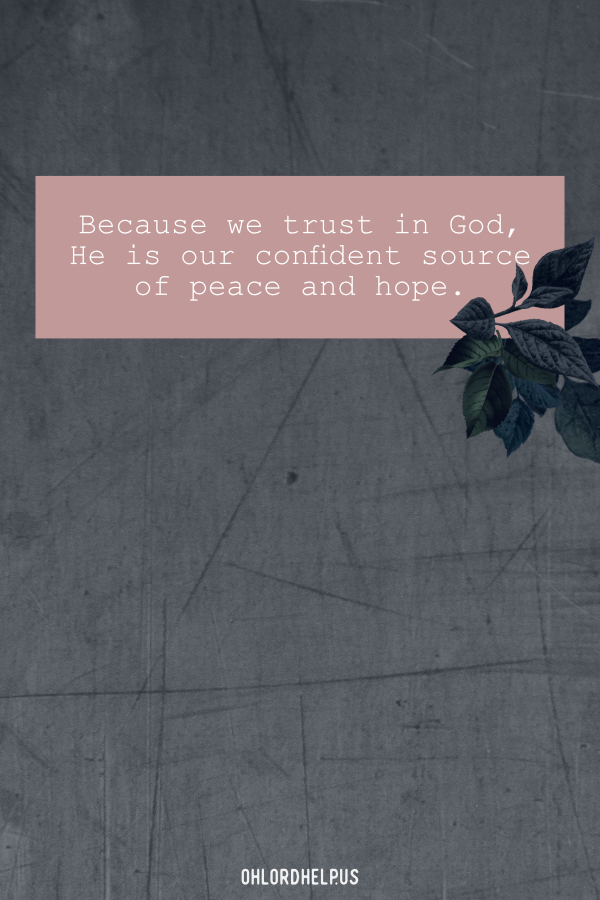 All scriptures are from The King James Version of The Holy Bible.
Annie Spratt