God calls all of us to provide helping hands whether it be in our schools, churches, or neighborhoods. We must all take part in providing for the needs of those around us.
---
---
A couple of weeks ago, two members of my church family, my community, helped me in a time of need. I previously wrote all about how 3 trees made their way on top of my house during a snow storm.
One person in my community of people graciously got them off my roof. And this week, 2 more dear friends helped me get them chopped up and cleared away. They were living, breathing examples of helping our siblings in Christ when they need it.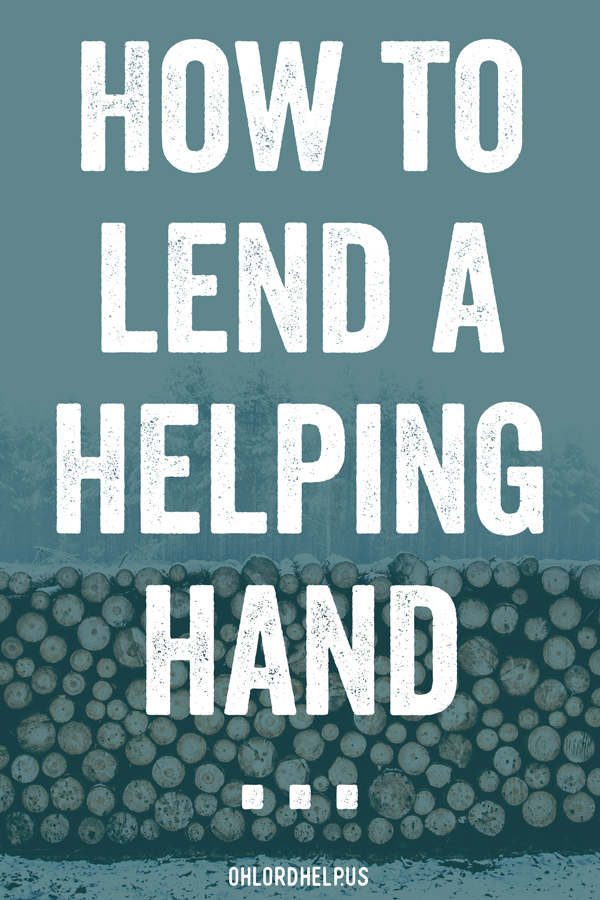 Acting in Freedom
For you have been called to live in freedom, my brothers and sisters. But don't use your freedom to satisfy your sinful nature. Instead, use your freedom to serve one another in love.

Galatians 5:13, NLT
We have freedom from sin through Christ's death and resurrection. We are called to use that freedom to serve one another. That doesn't mean when it is convenient or easy, it means helping where there is a need.
We must be self-sacrificing like our Savior. He surrendered Himself for us. We cannot satisfy ourselves and be susceptible to our sinful nature, but use our time, freedom, and resources to love each other.
Share What You Have
Don't forget to do good and to share what you have because God is pleased with these kinds of sacrifices.

Hebrews 13:16, CEB
This verse does not say to share when you are in a time of abundance. It did not say to only share certain things. It clearly states to share what you have. Whatever that may be.
Some people only have time and energy. It doesn't matter how much or how little you have, we have been implored to share. The act of helping is what is important. And why? Because it pleases God.
We are not just to share during times of abundance or only certain things. God's word tells us to share what we have. It doesn't matter how much or how little, the act of helping is what is important because it pleases God. Click To Tweet
Faith Without Action
What good is it, my brothers and sisters, if someone claims to have faith but has no deeds? Can such faith save them? Suppose a brother or a sister is without clothes and daily food. If one of you says to them, 'Go in peace; keep warm and well fed,' but does nothing about their physical needs, what good is it? In the same way, faith by itself, if it is not accompanied by action, is dead.

James 2:14-17, NIV
When we claim to have faith, our faith must be backed by our actions. If we ignore the needs of those around us and refuse to offer help, we are not acting in acceptance of our Savior. Scripture says that when our actions don't support our faith, then our faith is dead (James 2).
It is not enough to wish someone well, tell them that you are thinking of them, or even that you are praying for them. We do need to pray for each other, of course. But if we have the means to help someone and turn our back, only providing words of comfort, our actions are not reflecting what we believe.
Jesus did not simply wish us well when He came to Earth. He saw our need and He acted taking our place on the cross and dying for us. He acted in obedience to the Father. We have to follow His example.
Abide in Love
But if anyone has the world's goods and sees his brother in need, yet closes his heart against him, how does God's love abide in him?

1 John 3:17, ESV
If we want to abide in God's love, we need to help each other in times of need. This proves God's love and sets an example for those who witness our actions. Let's take time out of our schedules to bring a meal, help with yard work, donate unwanted items… Let's abide in love.
How can you lend a helping hand today?