We can all be tempted to be a superficial friend. Being a true friend requires God's abundant grace to lay down our lives.
---
---
Resting on my desk in a silver frame is a photo of beloved friends sitting, smiling, and leaning into each other around a table. It was taken at a favorite restaurant in early December 2016. We had gathered to celebrate the season. Eating, laughing, and exchanging the silly gifts we each had brought.
Weathering Life
This group of 11 consisted a majority of a community group my husband and I led at the church we attended at the time. But a number of us had been together for several years and had walked many roads hand in hand. We had prayed, studied, laughed and cried together, which has a tendency to bond folks. In addition, we had weathered cancer, parents with dementia, kids moving away, babies being born, and mid-life career changes.
Behold how good and pleasant it is when brothers dwell in unity.

Psalm 133:1, ESV

»«

As iron sharpens iron, so a friend sharpens a friend.

Proverbs 27:17, NLT
My husband and I live in another state now…
Sweet Melody
One of those friends called me today. Her voice was like a melody to a music-deprived ear. I've assumed they've all moved on without me/us. She had assumed we're always busy with grandchildren. She began to cry as she shared how much she has missed us. My tears joined hers as we dispelled the lies the enemy had whispered in our ears. And we promised to do better, to call when we think about the other, to not listen to the lies…
Oil and perfume make the heart glad, and the sweetness of a friend comes from his earnest counsel.

Proverbs 27:9, ESV
Because God knows we need our friends, wherever they live. The enemy knows this, too; he prefers to keep us isolated and alone.
Two are better than one, because they have a good reward for their toil. For if they fall, one will lift up his fellow. But woe to him who is alone when he falls and has not another to lift him up! Again, if two lie together, they keep warm, but how can one keep warm, alone? And though a man might prevail against one who is alone, two will withstand him – a threefold cord is not quickly broken.

Ecclesiastes 4:9-12, ESV
Isolation is Unhealthy
According to God, we're just no good alone; we don't function at full capacity. I know this personally. Left to my own devices, I am a natural loner, an introvert. When I am unhealthy spiritually or emotionally, withdrawal is my first choice. Like a wounded animal, I crawl into what feels like a safe corner, keeping supposed predators away.
But in that corner, there is no one to lift me up, no one to keep me warm or help me prevail against my enemy. I am actually more vulnerable there.
The enemy prefers to keep us isolated. But God knows we need our friends. We're no good in isolation; we can't function at full capacity and tend to be at our most vulnerable state. Click To Tweet
Bad Rap
If you were to ask 5 people what a friend is, you'd likely receive five different answers. They may be similar descriptions, but all slightly nuanced to what that individual needs a friend to be to them personally.
You know, women get a bad rap as friends. Generally speaking, we can be the best of friends one day and the worst the next. We can be terrible gossips, revealers of secrets, and queens of jealousy. We can also show up with a hot Starbucks when night class is about to begin, (a friend once did that for me).
We're also the first to recognize when something is troubling a co-worker and ask what's up. We show up with a meal when someone we know had a baby or got a bad diagnosis.
Being a superficial friend is something women can do naturally. Being a true friend requires God's grace…
That's just how we are…which is why we must look to an unchangeable Word to instruct us on how to be a friend.
A Friend Is…
Greater love has no one than this, that someone lay down his life for his friends.

John 15:13, ESV

»«

A friend loves at all times, and a brother is born for adversity.

Proverbs 17:17, ESV
There was a time when I believed that laying down your life meant literally dying – and certainly, in some cases, it has. However, despite this culture's obsession with death and the vast entertainment industry saturated with death, the truth is – the spiraling depression, anxiety and ever climbing suicide rates among our young reveals that it seems a much easier choice to die than to live and lay down one's life daily.
Because, you see, the two are completely different.
Oswald Chambers wrote:
…It is much easier to die than to lay down your life day in and day out with the sense of the high calling of God. We are not made for the bright-shining moments of life, but we have to walk in the light of them in our everyday ways. There was only one bright-shining moment in the life of Jesus, and that was on the Mount of Transfiguration. It was there that He emptied Himself of His glory for the second time, and then came down into the demon-possessed valley, (Mark 9). For thirty-three years Jesus laid down His life to do the will of His Father.

Oswald Chambers, My Utmost For His Highest
At All Times
What does it mean to lay down my life for a friend? My first thought is to be inconvenienced, probably because most of us don't flex well. For an example, simply drive down the road and stop to let someone pull out in front of you. Often, the non-flexers behind you will honk irritably! Try it sometime.
It may be something different for you; you know what it is. Sadly, too often, I place conditions on friendships. My version sometimes reads:
A friend loves when it works within my schedule.
Or:
A friend loves when the other person doesn't hurt my feelings.
Or:
A friend loves when the other person agrees with me doctrinally.
The list could be limitless, but being a friend would be limited. Proverbs 17:17 helps define true friendship: a friend loves at all times – not only when she agrees with me on parenting, politically, theologically or anything else, for that matter. I don't read a waiver in the verse, do you?
Sisters, will you choose with me to lay down your life this year? It won't be easy, but the Spirit will walk with us every step of the way.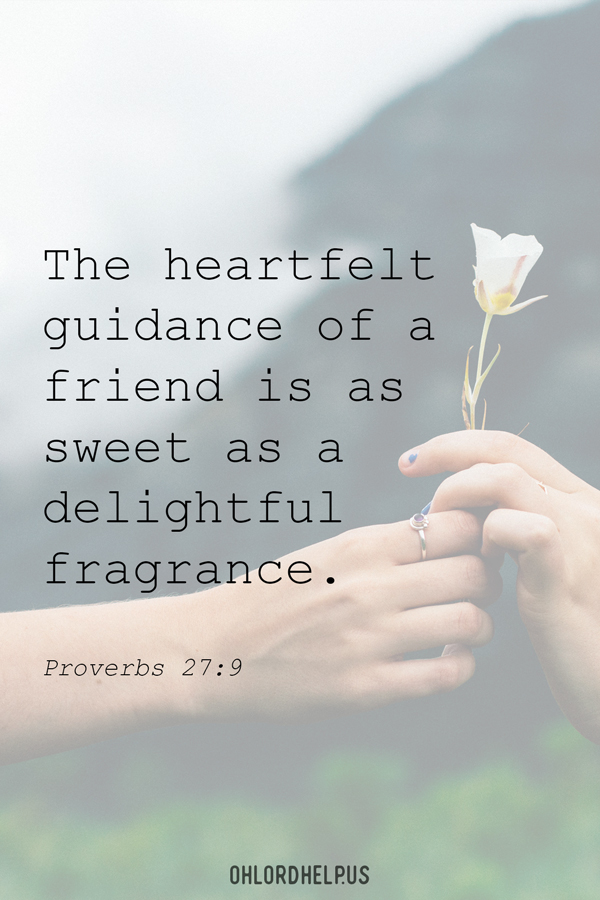 Evan Kirby