Fighting godly battles requires us to exercise restraint in the midst of our passion. We must avoid sinning because we are impassioned for God's will.
---
---
Disagreements
Polarized. When we read the news, scroll through social media posts, engage with our relatives — is there a better way to describe how the world seems? There is a "for or against" mentality regarding all hot button issues. The polarization trickles down into less public, more intimate disagreements. "We should agree to disagree" is a hollow statement, not meaning the sum of its parts so much as meaning. "We have to stop talking about this now if we are going to continue liking one another."
I like to avoid fighting. I find no enjoyment in conflict. Anxiety muzzles me. Inwardly I am impassioned, but outwardly I resist the urge to bark or bite at an offending argument. I justify this through scripture that cautions us to be slow to speak, lest we present ourselves as fools.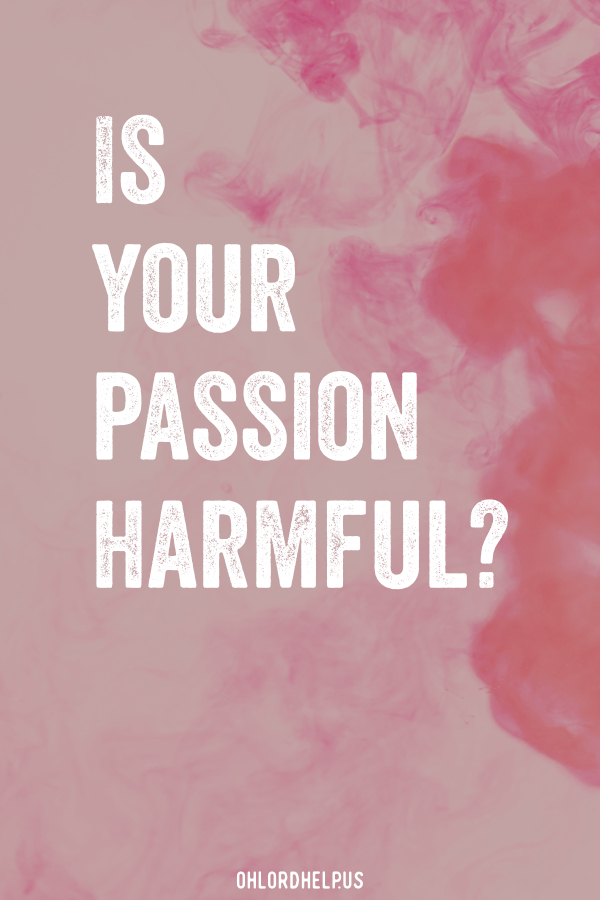 Fighting on Behalf of God
Our faith, though, calls us to action on behalf of the Truth our God instilled in us. Why did He give us the belt of truth, breastplate of righteousness, shield of faith, helmet of salvation, and the sword of the Spirit if He empowered us only to sit on the sidelines quietly? No. We must learn to fight for people and the will of God while answering the call to be peacemakers.
I think a lot of the reason we get into unproductive, vitriol-fueled fighting is because we do not take time to control our impulses. We do not step aside from our emotion.
A man of wrath stirs up strife, and one given to anger causes much transgression.

Proverbs 29:22, ESV
While we are to advocate for that which is right and righteous, God does not call us to sow hatred or to transgress in His name. He asks us to point others toward Him and His kingdom in all that we do and say. When we stand our ground in our arguments, we should have a subconscious self-check going on as we navigate these debates.
-Do the words I speak, show I love God?
-Will the person I am speaking with know that I love them?
-Does the content of my message show mercy, peace, and love to others?
Our Words Matter
At no time does name-calling point others towards the loving-kindness of Jesus. On my way to work, I listen to a podcaster who is well regarded in the Christian community. I respect the message and wisdom he shares. Yet, he frequently calls people idiots.
He does it in a loving aside, or with an endearing chuckle. This lets people know "I'm not really being mean." But do our choice of words not matter as much as our intent? Words of condemnation can wound. Applied with the proper intent and execution, however, they can restore and empower.
Let no corrupting talk come out of your mouths, but only such as is good for building up, as fits the occasion, that it may give grace to those who hear.

Ephesians 4:29, ESV
Understanding
This goes beyond using kind words and a gentle tone. If we are to build up, we have to understand the foundation of a person's belief. We have to be in relationship with the person we are talking to. If their thinking is not in alignment with God, then we should be fighting God's fight for their betterment, not our superiority. We have to seek understanding. Why does this person believe what they do? Where does their certainty lie?
Often in arguments, we look for the other person's fallacies to come to light. We want that aha! moment. It feels good to catch someone in their utter wrongness and juxtapose it with our inherent rightness. But they came to their beliefs through their own life experiences; through a lens of perspective shaped by different upbringings and influences. We have to understand that in most cases, those we are fighting with feel they are on the right side of morality or history. Start with the common ground that we all want to do good.
Jude's Guidance
Jude is this small one-chapter book of the Bible. I often fixate on it. This brother of James and Jesus sketches a picture of a community of Christ-followers who had unwittingly allowed people in who succumbed to ungodly desires. Jude does not hesitate to call out these actions as sinful, but throughout he guides us in how to approach those who are not in alignment with the Father.
Yet Michael the archangel, in contending with the devil, when he disputed about the body of Moses, dared not bring against him a reviling accusation, but said, "The Lord rebuke you!"

Jude 1:9, NKJV
If a high ranking angel remembered who actually passes judgment while he contended with the devil, then I can speak with a friend who is succumbing to sin without passing my imperfect judgment on her.
It is these who cause divisions, worldly people, devoid of the Spirit. But you, beloved, building yourselves up in your most holy faith and praying in the Holy Spirit, keep yourselves in the love of God, waiting for the mercy of our Lord Jesus Christ that leads to eternal life. And have mercy on those who doubt; save others by snatching them out of the fire; to others show mercy with fear, hating even the garment stained by the flesh.

Jude 1:19-23, ESV
Stand Firm in Love
Jude makes it clear. We are to stand in opposition to those who are divisive. When we see another human stuck in doubt or sin, we do our best to point them towards repentance and show them that they need saving. We are not, however, to do so in a manner that goes against God's commands. We are to keep ourselves in the love of our Father.
God clearly asks us to have mercy and show mercy. At the same time, we must hate the sin they are trapped in, and we should not fall into the trappings of sin ourselves. And fighting with someone in a way that causes harm, for the purpose of bringing glory to ourselves, or in a spirit of divisiveness is absolutely falling into the trappings of sin.
Fighting With Both Passion and Restraint
It's hard. Sometimes the people we love falter. It hurts to see them walk toward sin. Other people believe so staunchly in things that we find diametrically opposed to the will of God. Fighting for godly things is good. We should ask God to break our hearts for the things that break His. We need passion.
Equally, we need restraint. We need to use our zeal for God's will to determine what battles need championing, and we need restraint to keep our hearts focused on the love of God while we are in the thick of the fight.
Whoever has no rule over his own spirit is like a city broken down, without walls.

Proverbs 25:28, NKJV
Fighting for godly things is good. We should ask God to break our hearts for the things that break His. We need passion, but, equally, we need restraint.
Click To Tweet
Practical Strategies
I'm a very emotional person. Throughout my life, I have gotten so swept up in feeling that I have made great mistakes. I have hurt people. In light of this, I am now a huge proponent of approaching the things in life that impassion me with an arsenal of practical strategies.
We are so lucky that God hides practical strategies within the most poetic moments in His word. In reading Jude over and over again, I am struck by a line that I can use to help guard my tongue. What if I, before I entered into a debate with someone, opened it up as Jude opened his letter?
"Mercy, peace, and love be multiplied to you."

Jude 1:2, NKJV
What if I said these words, even just in my head, before opening my mouth or before I start typing? Would that change how I approach someone? If I start my conversation with a sentiment of well-wishing, could I continue to portray love while pointing out sin? I think I just might.