Jesus not only empowered His disciples but He empowers us! He is who we are to model when it comes to strengthening one another.
---
---
Jesus' ministry was to empower others. He empowered His disciples, was empowered by God, and finally, He empowers us. Jesus' example of empowerment is one to live by and never be forgotten.
Empowered
We all have people in our lives whom God has chosen for us to empower. There are also people called to strengthen us. Whether it be our children, our employees, our volunteers, or even our friends we are all called to strengthen and encourage one another.
I am not the best empowerer. I am great at allowing people to run with their ideas, but I am not great at identifying strengths and encouraging people in them. Through interactions with His disciples, Jesus gives us the greatest example of what empowerment looks like…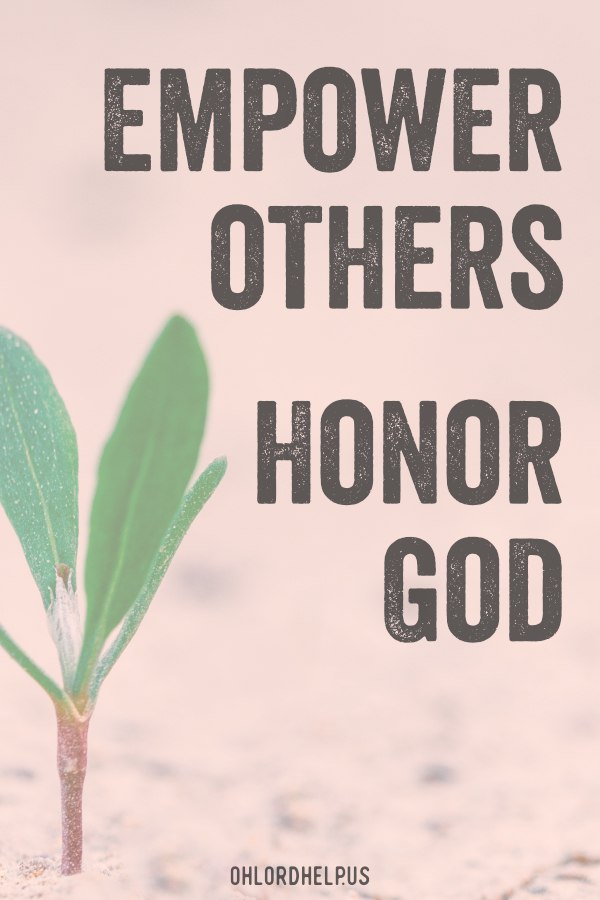 John
Then Jesus went from Galilee to the Jordan River to be baptized by John. But John tried to talk him out of it. 'I am the one who needs to be baptized by you,' he said, 'so why are you coming to me?'

But Jesus said, 'It should be done, for we must carry out all that God requires.' So John agreed to baptize him.

Matthew 3:13-15, NLT
John the Baptist was one of Jesus' closest friend. He was also one of the first people Jesus empowered. Jesus sought out and told John to baptize Him. John's response was valid, "you should be baptizing me"…
But Jesus empowered John in the cause God had given and reminded John that God requires this action. He readied John to do something that Jesus very well could have done Himself. Jesus did not make it all about Himself but empowered another in to do the God-ordained task at hand.
Peter
Now I say to you that you are Peter (which means 'rock'), and upon this rock I will build my church, and all the powers of hell will not conquer it. And I will give you the keys of the Kingdom of Heaven. Whatever you forbid on earth will be forbidden in heaven, and whatever you permit on earth will be permitted in heaven.

Matthew 16:18-19, NLT
Jesus equipped Peter to build His church. Take a moment. Let that set in. Peter, who denied Jesus, would be the one to build the church. This is an amazing form of empowerment. Jesus chose Peter knowing that he would fail Him.
I think sometimes we are afraid of being let down or of people failing so we choose to do things on our own. This is the opposite of empowerment. People will let us down constantly. Even so, we need to continue to support and encourage. Jesus did and still does.
Jesus
For this is how God loved the world: He gave his one and only Son, so that everyone who believes in him will not perish but have eternal life. God sent his Son into the world not to judge the world, but to save the world through him.

John 3:16-17, NLT
God gave us the greatest example of empowerment when He sent Jesus to Earth. God instilled Jesus with His power to not only perform miracles but to save all of creation. Because Jesus was empowered, He was able to empower those around Him in miraculous ways.
Us
Therefore, since we are surrounded by such a huge crowd of witnesses to the life of faith, let us strip off every weight that slows us down, especially the sin that so easily trips us up. And let us run with endurance the race God has set before us. We do this by keeping our eyes on Jesus, the champion who initiates and perfects our faith. Because of the joy awaiting him, he endured the cross, disregarding its shame. Now he is seated in the place of honor beside God's throne.

Hebrews 12:1-2, NLT
God set us on a path and Jesus perfected it. We are empowered to run our race. We are empowered to do so in the presence of many. Jesus was empowered to sit on the right hand of God. This happened through pain and suffering. What would happen if we looked at our pain and suffering as part of our empowerment in ministry? We are empowered by God and in turn, we must empower others. Because there is joy awaiting us, just like there was joy awaiting Jesus.
God set us on a path and Jesus perfected it. What would happen if we looked at our pain and suffering as part of our empowerment in ministry? We are empowered by God and in turn, we must empower others. Click To Tweet