We are compelled to forgive not by our own strength or love for others, but by the staggering love of our Savior and His sacrifice on the cross.
---
---
For Christ's love compels us, because we are convinced that one died for all, and therefore all died. And he died for all, that those who live should no longer live for themselves but for him who died for them and was raised again.

2 Corinthians 5:14-15, NIV
The emotions all collided in that brief moment and the result was an eruption of tears. I sat there with my soon-to-be in-laws trying to contain the turmoil and confusion within me. But to no avail.
With the bitter taste of loss lingering in my heart and mind, I tried to come to some understanding as to why my friend would seemingly erase me from her life in the matter of a week.
Memories of our last time together only confused and our future plans, now vanished, were like salt in an open wound.
In the weeks that have followed, I've found myself face-to-face with the matter of forgiveness more than once. From sitting across the table helping another gal forgive a deep hurt, to every verse in the Bible somehow pointing to the discipline of forgiveness. And then to my own personal wrestling with forgiveness in the middle of the night.
Though the situation goes far deeper than the visible consequences and aftermath of my friend's decision, there is still something that can be said about forgiveness in the midst of personal pain and offense.
A Slap Across the Face
As I expressed my hurt and confusion to a dear friend, she offered a piece of advice. You know, the kind of advice that will stick with you for the rest of your life…
As much as our hearts are grieved when a friend walks away, think about how much more God's heart is grieved when we walk away from Him every single day.
My friend's decision felt like a slap across the face. Dazed and confused, I tried to collect my thoughts and as I sorted through the broken pieces, I was gently reminded that in this hurting, I was not alone; that my Lord and Savior was also slapped across the face.
John 18 tells us the story –
Meanwhile, the high priest questioned Jesus about his disciples and his teaching. 'I have spoken openly to the world,' Jesus replied. 'I always taught in the synagogues or at the temple, where all the Jews come together. I said nothing in secret. Why question me? Ask those who heard me. Surely they know what I said.' When Jesus said this, one of the officials nearby slapped him in the face. 'Is this the way you answer the high priest?' he demanded.

John 18:19-21, NIV
A Choice
Though the circumstances might vary, I'm sure we can all come up with at least one time when we have felt slapped across the face; when we have been wronged, accused, or slandered.
And in every case, we have done one of two things – reacted emotionally or responded gracefully.
If you're like me, you can look back on the trail of emotional reactions you've left behind and regretted the words you've said. As we've grown and matured in our faith, we recognize how we could have handled certain situations better; how we could have responded with grace rather than with anger.
And in realizing this, I for one have found myself in a self-imposed solitary reprimanding over and over again to be better, to forgive quicker, and to never allow feelings of anger to consume me like that again.
Despite what we may think, this is not where being compelled to forgive comes from. We will never be able to muster up the strength to forgive within ourselves. We must look up from our magnifying glass focused on the molehill of offense, to see the mountain of offense that is our own.
Mountains and Molehills
The slap across the face that Jesus received might as well have been by my own hand.
Even when we feel deeply wronged by a brother or sister, the fact remains that we greatly wrong God every single day; slapping His Son across the face every time we act in sin and rebellion against Him.
This is our mountain of offense.
Our looking upon this mountain is not for the purpose of punishment, guilt-tripping, or shaming us. But it is for the ultimate goal of being consumed and compelled by the cross.
As we are convinced of our great need and that 'though our sins are many, his mercy is more,' we realize what marvelous freedom we have in Christ; that because He died for all, we are relentlessly pursued by grace rather than justice; that God's righteous wrath was satisfied on the cross and therefore, we are daily pardoned of great offense.
Gazing at our mountain brings us not to a place of shame and cowering, but to a place of holy reverence; rejoicing in the great reality that our multitude of sins have been exonerated. We are found blameless before God Almighty and are at perfect peace with Him, in Christ Jesus.
In the past, I've believed that feelings of peace and joy are what indicated I had indeed forgiven someone 'successfully.' The messages that we receive today leave us with the impression that when we truly forgive someone, all the hurt, confusion, and pain will immediately dissolve. We will feel nothing but peace…
Compelled to Forgive
While I do believe this can happen over time, it puts across the false message that if we have yet to experience those feelings, then we haven't truly forgiven. We must, therefore, try harder.
However, the reality is that it is not our own strength of motivation moving us towards forgiveness. It is the love of Christ that compels us to forgive. Through Him, we are compelled to forgive.
When the love we receive from Christ (made evident by the cross) and the peace we have with God (as a result of the cross) compels us – and trust me, it will compel us when we diligently and daily focus on the cross – the molehill of offense caused by a brother or sister comes into perspective. It becomes less significant and a lot easier to release into the loving care of our Savior.
We are compelled to forgive not by our own strength or love for others, but by the staggering love of our Savior. Our Savior who died for all so we no longer live for ourselves, but for Him.
So today, as you wrestle with forgiveness, I encourage you to take a moment and consider the cross. Really contemplate its implications, its meaning, and the weight of Christ's anguish on your behalf.
Allow your heart to be broken by Jesus' suffering. May you be filled with a love and a peace that compels us to care for and forgive others.
Peace I leave with you; my peace I give you. I do not give to you as the world gives. Do not let your hearts be troubled and do not be afraid.

John 14:27, NIV
We are compelled to forgive not by our own strength or love for others, but by the staggering love of our Savior. Our Savior who died for all so we no longer live for ourselves, but for Him.
Click To Tweet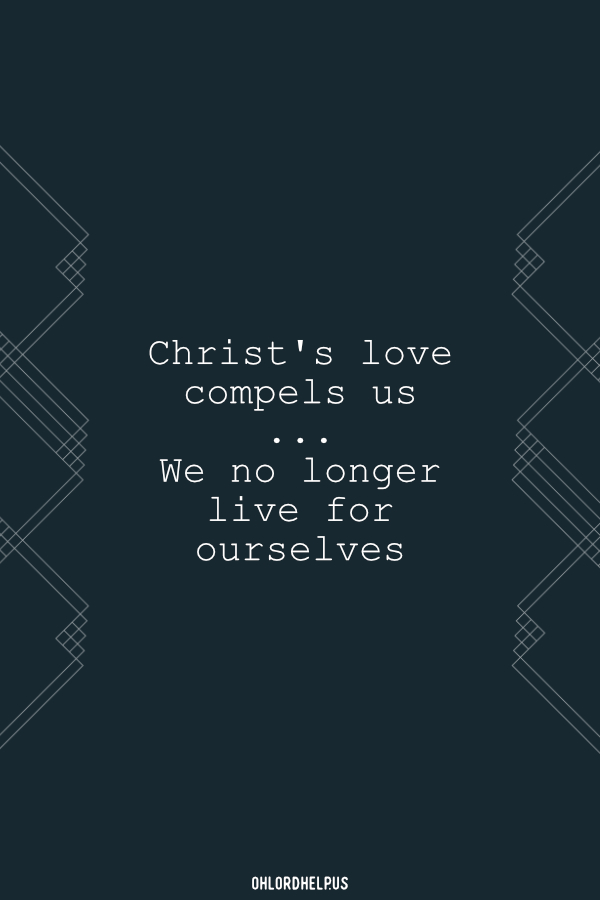 Annie Spratt