When we allow the Lord to restore the brokenness in our hearts, He makes us into something beautiful. Indeed, He makes all things beautiful in His time. Beauty for ashes.
---
---
A few weeks ago I attended a friend's beautiful birthday celebration. But this was no ordinary birthday party! It was a Girl's Day (and night) of epic proportion. I'm talking lunch, coffee, pedicures, shopping, cocktails, and a gourmet dinner. It was truly a fairy tale kind of afternoon.
But like any beautiful fairy tale, brokenness emerged as part of the story. At one point, we were all sitting around a table on a warm, breezy veranda. That's when the birthday girl suggested we play a get-to-know-you trivia game.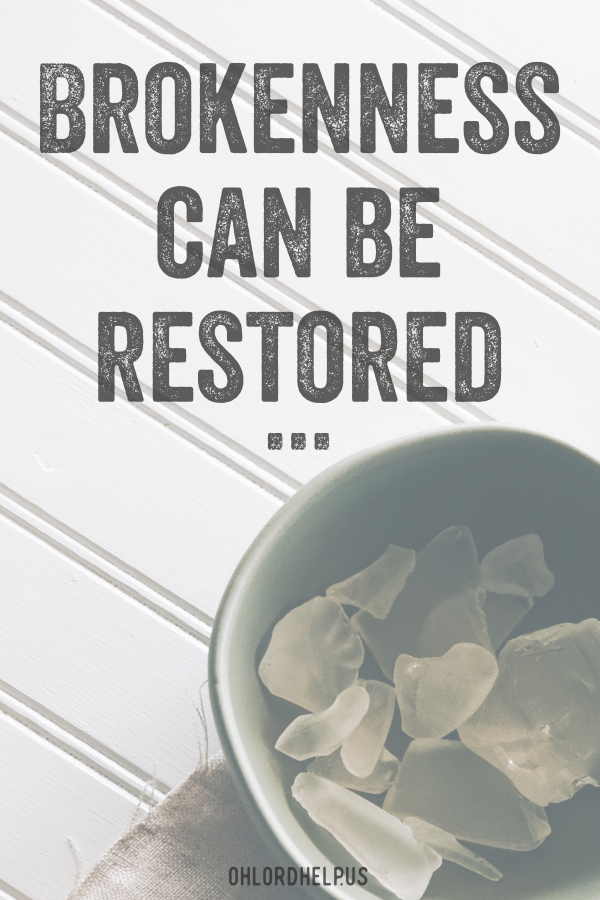 Bits of Brokenness…
As my friend read off the unique facts about each woman, we were to match the descriptor with each woman's name. As she read the descriptions, bits of brokenness revealed themselves. One woman survived breast cancer. Another woman served in the military in Afghanistan. Someone else had just given birth three weeks ago. And another's husband almost died twice last year….the incredible list went on! Given that I was new to the group, I had no idea which description matched which woman.
And as I looked around the table at all their beautiful faces, pretty clothes, and newly painted nails, I was still at a loss. Honestly, I found it hard to believe that this group–of such outwardly put together women–could have experienced such deep depths of brokenness. When my friend revealed the answers to the questions, I looked at each woman at the table. Each one was a testament to the amazing beauty that emerges when we allow the Lord to restore our brokenness.
He healeth the broken in heart, and bindeth up their wounds.

Psalm 147:3
A Therapeutic Process…
A simple illustration of how the Lord has turned my brokenness into beauty is through the craft of jewelry making. For as long as I can remember, I've loved making jewelry. As a little girl, I would sneak into my mom's sewing kit, hunting for colorful embroidery floss. It took some doing to unwrap the threads from the pokey pincushions and other sewing supplies. But once I had my assortment of colors, I'd spend hours making elaborate macrame friendship bracelets.
Amid the emotional chaos of my parents' unraveling relationship, the slow straightening, pulling, and knotting of the long strings became a therapeutic process. I remember feeling so satisfied when I'd finally finished a bracelet.
Slowly yet surely, I would transform the once tangled, stringy mess into a tightly fashioned pattern of beauty. And doesn't this mirror how the Lord works in our hearts? Under His patient and steady hand, the once seemingly hopeless, jumbled mess of a broken heart is mended into a beautifully woven masterpiece.
The Spirit of the Lord GOD is upon me; because the LORD hath anointed me to preach good tidings unto the meek; he hath sent me to bind up the brokenhearted….

Isaiah 61:1
Castaways…
A few years ago, I found myself in need of some jewelry therapy once again! My husband and I were in the middle of a financial wilderness season–which posed a problem for someone whose love language is gift giving! I simply couldn't bear the thought of allowing a friend or family member's birthday to pass without giving her a gift. Because I couldn't afford to buy anything, I decided to make jewelry to give as presents.
The only problem was, the pretty new beads from the local bead store were pricey. But the Holy Spirit gave me an ingenious idea for how to get my hands on free jewelry supplies. I began asking friends and family to give me any old, broken, or castaway jewelry that they were willing to part with. Then, I'd take apart the old pieces and make them new jewelry from the supplies I received. Upcycling at its finest!
Their Trash, My Treasure…
It was only a matter of time before the floodgates of jewelry supplies opened. Soon, women were bringing me bags of broken or unwanted jewelry, and their trash truly became my treasure! Amid my fear and uncertainty about our family's financial future, once again, I was able to find comfort in the simple physical process of making jewelry.
After putting my baby and toddler to bed, I'd sit for hours sorting through all the broken pieces, dismantling and organizing the beads, playing around with different color combinations, and exploring new designs. As I delved into that creative process, the Creator was sorting through the broken pieces of my heart–untangling knots from old wounds and refashioning me into His original design.
Broken to Beautiful…
Fast forward a few years, and the Holy Spirit began to show me how this creative process–of taking something broken and making it beautiful–has tremendous potential as a tool for ministry. That's when the Lord gave me the idea to host guided jewelry making parties as a form of ladies' fellowship. I presented the idea to my pastor's wife, and our ladies' Bible study group decided to host our first Broken to Beautiful event.
The evening was such a blessing! My pastor's wife shared a powerful message about Christ's restoration; we enjoyed a time of food and fellowship, and I shared my testimony of how the Lord has taken me on a journey from a place of brokenness to one of beauty.
That night, I shared with those ladies something that I know to be true: We are not beautiful despite being broken; rather, we are beautiful precisely because we have experienced brokenness. And when we allow the Lord to restore our broken parts, He puts us back together perfectly, making us even more beautiful than before. When that evening ended, two new souls were added to the kingdom, as two women handed their broken hearts over to the Lord. He is now making them beautiful.
We are not beautiful despite being broken. We are beautiful because we have experienced brokenness and allowed the Lord to restore our broken parts. Click To Tweet
Precious Jewels…
Before long, our ladies group began to take Broken to Beautiful events to the young women living in a nearby orphanage. The girls sort through the broken, dismantled jewelry, choose their favorite beads, and create beautiful new pieces of jewelry. Through this hands-on activity, they experience a physical picture of the spiritual process that the Lord wants to do in each of our hearts.
He sees their broken hearts. Not as accidents or mistakes to be discarded and thrown away. But as precious jewels, full of splendor and worthy of honor in His kingdom. Each time we finish an event with these young ladies, their countenances change–from dark and sullen to light and hopeful. And their bracelets serve as a powerful outward reminder of the inner beauty and worth that they possess.
Oh Lord Help Us…
Recently, the Director of Oh Lord Help Us, Rachael, invited me to begin holding Broken to Beautiful events in our community. We hosted our first one last week and plan to host many more. We're inviting women to bring their old, broken, and castaway jewelry to the events, and they will leave with a beautiful new piece that they have created.
Pieces from their broken jewelry will eventually show up in the new designs created by women at future gatherings. Their beads could also be incorporated into beautiful pieces created by the young ladies in our Hope + Vine artisans program.
So, Beloved, our brokenness becomes our beauty. Literally and spiritually. Because we are women who serve a God who gives us beauty for ashes. A God who truly makes all things beautiful in His time.
He hath made every thing beautiful in his time: also he hath set the world in their heart, so that no man can find out the work that God maketh from the beginning to the end.

Ecclesiastes 3:11
How has the Lord turned your brokenness into beauty? Would you like to host or attend a Broken to Beautiful event? If so, contact us: events@ohlordhelp.us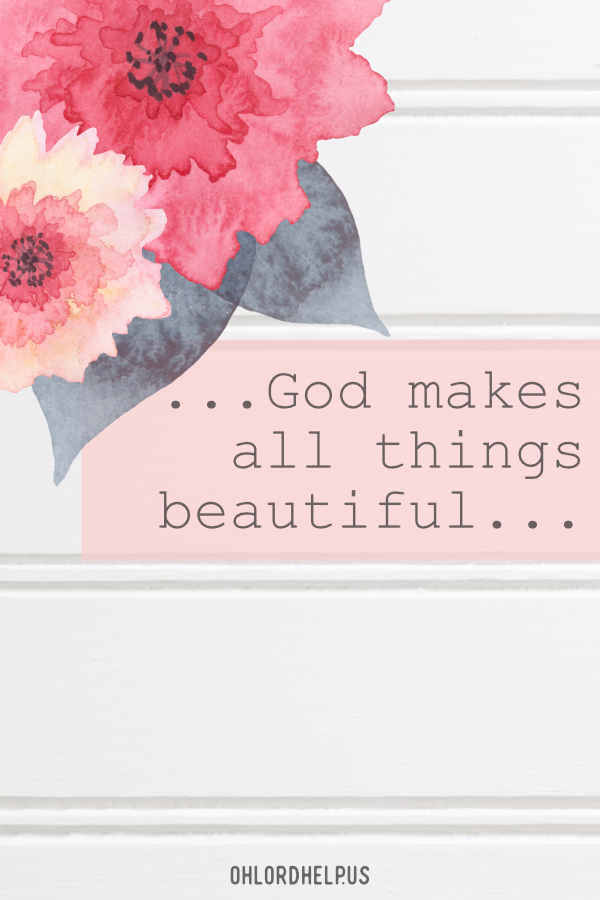 All scripture references from The King James Version of The Bible