Admitting we have hurt someone and asking for forgiveness can be difficult. A genuine apology shows obedience to God and frees us from sin and pain.
---
---
Be kind to one another, compassionate, forgiving one another, just as God in Christ also forgave you.

Ephesians 4:32, NET
Polarizing Tactics
For the first twenty-five years of our marriage, Gary and I seldom argued. That isn't to say that we didn't disagree, didn't hurt each other's feelings, or give each other the silent treatment; I'm simply saying we seldom argued.
Neither of us came from homes where disagreements were handled in a healthy way- his dad went to the basement; mine hid behind the newspaper. Therefore, neither of us were equipped to manage conflict well… so, we didn't. We went to our separate corners and waited for the storm to pass. Or, perhaps more realistically, I waited for him to apologize and he waited for the storm to pass!
What it took me many years to learn was that his family, (and men in general,) didn't learn to express regret when they were wrong or wronged someone else. Apologizing, admitting mistakes seems to be a learned trait for about half of the population. Yet, I felt like I was saying, "I'm sorry," for everything, sometimes even my existence! But that was my own issue, not Gary's.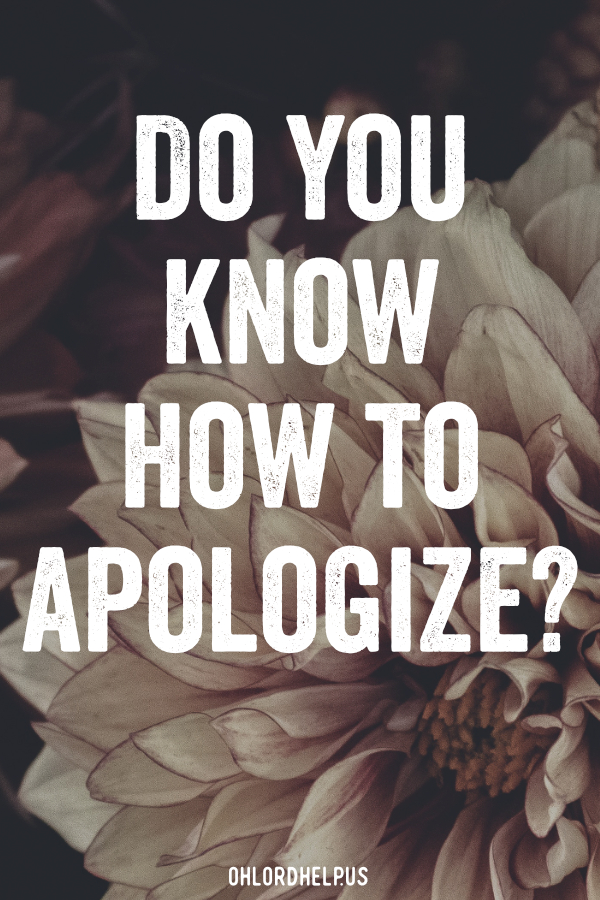 Deteriorating Foundation
One of the many problems with this scenario in a marriage or friendship is that the tiny papercuts and the buildup of infractions can become a gaping, bleeding wound which eats at the foundation of the relationship. Then someday, an incident that is seemingly a 4 on a scale of 1 to 10, becomes an immediate 10, and your spouse or close friend, doesn't know what hit him, (or her, as the case may be).
That was our cycle. Build-up, build-up, build-up, BOOM. My anger would explode at something Gary had done or not done. He would remain quiet, calm, and in control, while I ranted; then I felt shame because I would be reminded of how my mom reacted toward my dad, (and I promised myself that I would never be like her, of course).
Each time this happened, my heart closed a bit more toward my husband, like the bloom of a flower closing against the night. (Now granted, I wasn't exactly the Proverbs 31 wife with a gentle, quiet spirit. Our five years of marriage counseling was for both of us!)
One-Liner Apology
During our marriage counseling, Gary began learning the importance of saying he was sorry when he had hurt me. However, for many years it continued to feel disingenuous and rehearsed to me, probably because he usually followed up with, "but I didn't know" -or- "but I didn't mean to," which left me feeling hollow.
Ted Cunningham wrote for Focus on the Family about ways not to apologize. These are some famous one-liner apologies that should never be used! (Do they sound familiar?)
"I'm sorry you feel that way" is another way of saying, "You shouldn't feel that way." It's one of the world's worst apologies.

"If I offended you, I'm sorry" is another way of saying, "You shouldn't have been offended by that" or "You're too sensitive."

"I'm sorry you took it that way" is another way of saying, "That's not what I intended." What your spouse hears is more important than what you say.

"I'm sorry I said it that way" is another way of saying, "What I said was right, I just said it in the wrong way" or "What I told you was truth and you needed to hear it, but maybe my tone wasn't right."

www.focusonthefamily.com/marriage/communication
Apology
Dr. Gary Chapman, author of The Five Love Languages, has also written that there are five languages of apology. He believes that this is the reason why so many marriages stutter at the apology and don't travel forward to much-needed forgiveness.
Expressing regret – This is the emotional aspect of an apology. People who speak this language believe it is important to acknowledge that you offended them and to express your own sense of guilt, shame and pain that your behavior has hurt them deeply. Actually being able to say "I am sorry" is very important to a person who speaks this language. 

Accepting responsibility – In this instance, an apology means accepting responsibility for one's actions and being willing to say "I was wrong." This is often very difficult because admitting you are wrong can be perceived as weakness. 

Making restitution – For an apology to be genuine, it isn't just about saying "I am sorry." Instead, it's all about making things right for a person who speaks this language. They want acknowledgment of the wrongdoing and they want to know what you are going to do to make it right.

Genuinely repenting – The word repentance means "to turn around" or to change one's mind. If a person speaks this language of apology they are expecting that you not only apologize but that you will seek not to repeat the offense again in the future.

Requesting forgiveness – A person who speaks this language believes that an apology not only includes "I am sorry," but also a request for forgiveness. Requesting forgiveness indicates to some that you want to see the relationship fully restored.

www.firstthings.org
Biblical Forgiveness
While I have great respect for Dr. Chapman, my guiding principle is always the Word of God. It speaks clearly about forgiveness. Jesus delineates the need to take all the steps which Dr. Chapman has laid out, not one that we choose to be our personal language.
Be on your guard! If your brother sins, rebuke him; and if he repents, forgive him.

Luke 17:3, NET
»«
"For if you forgive others for their transgressions, your heavenly Father will also forgive you."

Matthew 6:14, NET
»«
Therefore, as the elect of God, holy and dearly loved, clothe yourselves with a heart of mercy, kindness, humility, gentleness, and patience, bearing with one another and forgiving one another, if someone happens to have a complaint against anyone else. Just as the Lord has forgiven you, so you also forgive others.

Colossians 3:12-13, NET
Abundant Grace
And there it is, the inarguable point; how can we contend with this? The Lord's forgiveness has been abundant, vast…how can we withhold grace and the mercy of forgiveness from one who has offended or wounded us? I had to learn…am still learning…to forgive half-hearted – or no – apologies. My brother was one who never asked forgiveness for the pain he inflicted.
And there are unfathomable wounds some of you have endured, aching wounds for which no one has borne responsibility or asked forgiveness.
But God…
He knows your pain and He covers it with His balm of healing grace.
Forgive them, so that you may go free.
The Lord's forgiveness has been abundant, vast…how can we withhold grace and the mercy of forgiveness from one who has offended or wounded us?
Click To Tweet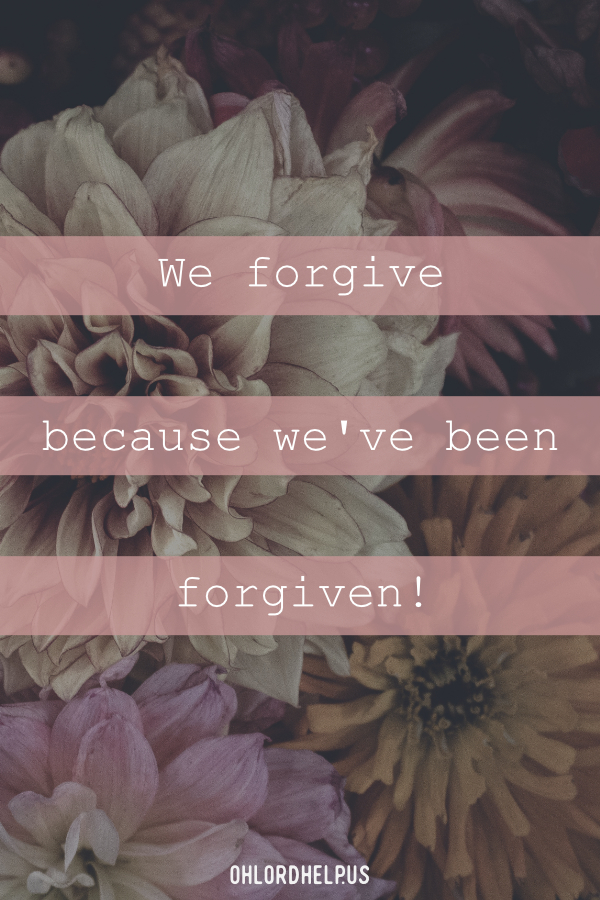 Dallas Reedy