As new creatures in Christ, we must turn over all areas of our life to the Lord. When we do this–in ways large and small–He becomes our All in All.
---
---
And God is able to make all grace abound toward you; that ye, always having all sufficiency in all things, may abound to every good work.

2 Corinthians 9:8, KJV
"In Jesus' name. Amen." We hear these words so often. Typically at the end of a spoken prayer in church, at a Bible study, or around the dinner table. But what about in the rest of our day to day life?
What if we, as believers, were to apply these words to our entire lives? After the thoughts we think about ourselves and others? After the words we speak? When choosing the music we're going to listen to or the movie we want to watch? When we're considering whether to marry someone or start a family? How might our lives change if we were to apply these three words: "in Jesus' name" to all that we think, say, and do?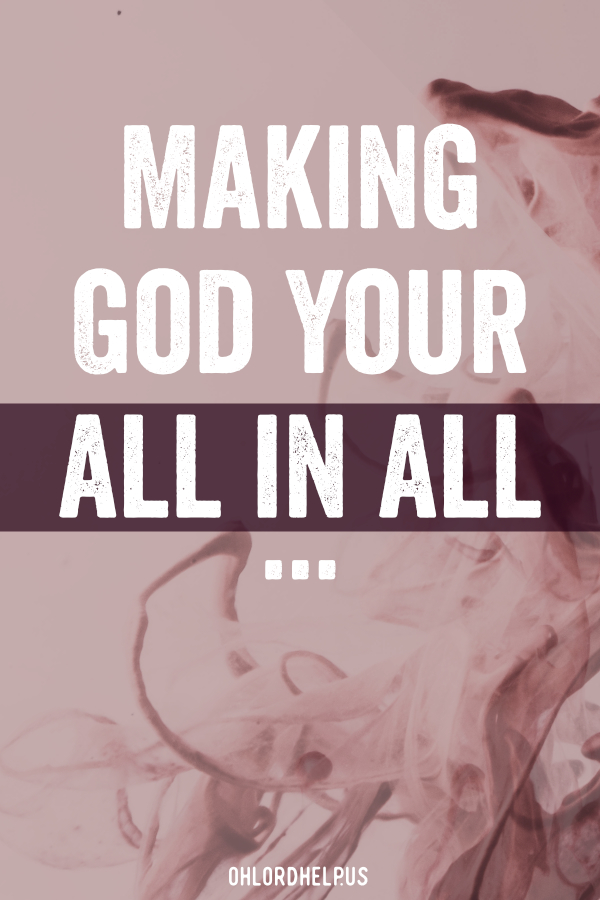 All Means All…
Trust in the Lord with all thine heart; and lean not unto thine own understanding. In all thy ways acknowledge him, and he shall direct thy paths.

Proverbs 3:5-6, KJV
I looked up the definition of the word "all," and guess what it means? All! Everything. The totality of a person or thing. The whole shebang! So if we are to trust the Lord with all of our heart and acknowledge Him in all of our ways, then every single aspect of our lives should reflect who He is. If we were to truly give Him our all, wouldn't the choices we make look like His best for us in every situation?
Sometimes our choices feel small and of very little consequence. Other times, we face big situations that require very difficult decisions. But, as we commit to inviting the Lord into every choice–small or large–we make, we begin to see how His good and perfect will applies to all that concerns us. And, we don't have to fret about the choices before us or worry whether we'll make the right decision. If we'll ask Him, the Holy Spirit inside of us helps us know the right thing to do at all times.
When the Spirit of truth comes, he will guide you into all the truth, for he will not speak on his own authority, but whatever he hears he will speak, and he will declare to you the things that are to come.

John 16:13, ESV
Small…
Here's a small example…
My husband and I have always loved watching movies together. Pre-kids, that meant late date nights at the movie theater in comfy reclining seats, replete with an entire barrel of popcorn doused with "movie butter." Don't ask me what was in that stuff, but I'm pretty sure it wasn't actually butter, and I'm also positive that it tasted delicious!
These days, movie nights look a lot different. Showtime is at 8:30 p.m., in our living room, in our pj's, on our non-reclining couch. A movie requires a full, strong cup of coffee after dinner just to stay awake, and the popcorn is a slightly healthier version.
But the setting and the movie butter aren't all that's changed. The content we regard as entertainment has shifted dramatically. So much of what used to captivate and thrill us now disgusts and saddens us. If a film is full of foul language, gratuitous nudity, violence, and empty, nonredemptive plots, we just won't watch it. In other words, if I can't say "in Jesus' name" to my choice, I can't press play.
The check in my spirit simply won't allow me to sit through two hours of anything that doesn't somehow uplift, inspire, or motivate us to live a more full, joyful life. Friends, we have to be careful about the choices we make, even in things as seemingly small as entertainment choices. Because if we aren't careful, we can allow in "little foxes" of sin and doubt that seek to spoil our faith.
Take us the foxes, the little foxes, that spoil the vines: for our vines have tender grapes.

Solomon 2:15, KJV
Big…
Now, choosing our entertainment is a relatively easy area to distinguish between dark and downright unholy and offerings that are good and wholesome. But there are other, bigger areas of our lives that hold much greater significance–like whom to marry, which job to take, whether to have children, how to respond to a health crisis, how to overcome an addiction, and such. In these areas, the "in Jesus' name" litmus test applies to an even greater extent.
A number of years ago, I was struggling with a problem that falls into the big category. A drug addiction. As a relatively new believer, I had become a new creature in Christ, yet I hadn't fully allowed all of my old, sinful habits to die. In other words, I wasn't all in for the Lord.
Throughout high school, college, and through my 20's, I smoked marijuana. I had wrapped so much of my identity as an artist into my identity as a pot smoker that I feared I couldn't create anything good unless I was high as a kite. I recall many a late-night spoken word poetry and songwriting session punctuated by bong hits and coughing fits.
For years, I used this drug recreationally and never suffered a guilty conscience from inhaling ungodly amounts of smoke. Much less from flouting the law of the land! But once I asked Christ to come into my heart, I began to understand that what I was doing was wrong.
I knew that I was, in fact, sinning. Both by breaking the law and also by altering the chemical state of my brain–which was supposed to be a holy temple for the Holy Spirit. But for years, the pull and the desire to smoke weed held a very strong grip on me.
A Realization…
One day I was driving down the highway on a long road trip by myself. As I was singing the words of a new song the Lord was giving me, for some reason, my thoughts turned to the drug paraphernalia in my glove compartment.
Part of me really wanted me to do what I'd always done on road trips–pull out my trusty pipe and take a toke. But an even bigger part of me felt repulsed by the very notion. The Spirit inside of me was warring against the sinful choice I was about to make.
And in that moment, I had a realization. I wasn't high, yet I was coming up with a new song! And in fact, I had a bunch of new songs that hadn't come to me while I was smoking. Like a lightning bolt, the epiphany struck me: the source of the creativity inside of me was not the pot I was smoking. My creative gifts came straight from the Creator Himself. Buzzing from the excitement of this new realization, the Holy Spirit inside of me rose up, and I began to praise God.
Eventually, I did reach into the glove compartment. But it wasn't to smoke a bowl. Instead, I grabbed the little embroidered bag that held my pipe, lighter, and weed, and I chucked it out the window. And I have never looked back. In retrospect, I guess I committed another sin that day–breaking the littering law. But I hope the Lord won't judge me for that….or for my marijuana addiction!
Become New…
Beloved, when we allow all of the old things–our old sins, old ways, and our old choices–to pass away, we can begin to truly live a life where "all things are become new" (2 Cor. 5:17, KJV). Earnestly trying to apply "in Jesus' name" to all that we do, clears the smoke in our vision. It allows us to see that so many of the things that used to please us were really chains that bound us.
Before I quit smoking pot, I thought that life wouldn't be any fun without it. Like the ashes from my bowl, I pictured my creativity just drying up and blowing away. But I can tell you today, I feel better than ever. I'm having much more fun and I feel more creative than I ever did during those years when my entire life was shrouded in a smoky haze!
All in All…
The enemy wants us to believe that the Lord is a divine killjoy who wants us to live boring, mundane holier-than-thou kinds of lives. But friends, nothing could be further from the truth! When we walk away from all the old, sinful counterfeits, we are able to see that we serve a good God who wants to give us all things for a full, joyful, abundant life in Him.
According as his divine power hath given unto us all things that pertain unto life and godliness, through the knowledge of him that hath called us to glory and virtue.

2 Peter 1:3, KJV
Beloved, if we'll let Him–just like the old hymn says–He truly will be our "All in All." In Jesus' name. Amen!
Is there a small choice–"a little fox"–in your life that won't allow you to say "in Jesus' name" afterward? Maybe a big area of your life where you need the Lord to make all things new for you? Is He your All in All?
Earnestly trying to apply 'in Jesus' name' to all that we do, clears the smoke in our vision. It allows us to see that so many of the things that used to please us were really chains that bound us.
Click To Tweet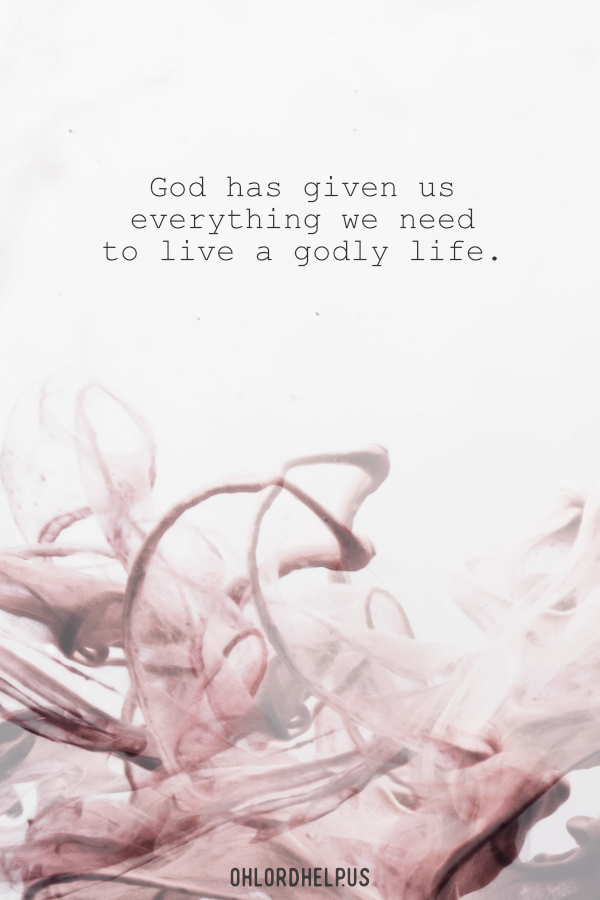 chuttersnap