When our thoughts about ourselves and others align with the truth of God's Word, the words we speak will be life-giving to those around us. 
---
---
As is so often the case, recently I've been learning a lot about this walk of faith through parenting my children. I have an eight-year-old son and a six-year-old daughter, who are precious, funny, and…challenging!
We just wrapped up a three-week track out period–on the year-round school calendar, this is the break that follows each nine-week quarter. The first week of track out went smashingly well…mainly because both kids went to a week-long, all-day camp that they love! However, for weeks two and three, the camp was full. So, the kids stayed home for two…entire…weeks! As a courtesy to the reader, I'll spare the gory details and just say: it did not go so well.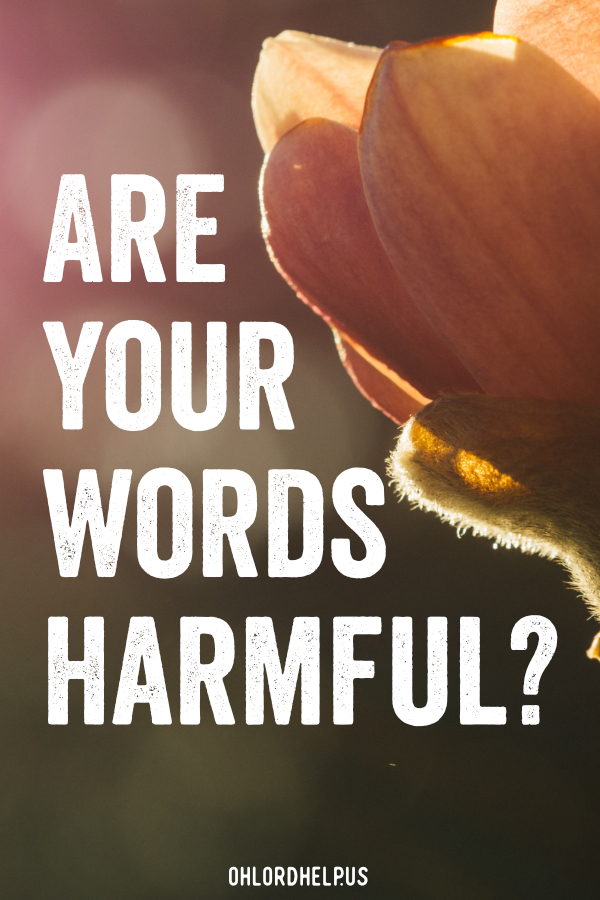 Dangerous Declarations…
There was yelling, hurt feelings, toy fights, and fussing and whining over…well…just about everything! At one point, I heard myself say in exasperation: "Nothing can ever just be easy with you two, can it?!" Immediately when I said this, a pit formed in my throat.
I realized that, as I was speaking, in essence, I was making some dangerous declarations about my kids and about myself. They were too difficult. I couldn't handle them. Spending time with them was a chore I did not enjoy… And sadly, these are only some of the many negative declarations I made that week. (The final week went much more smoothly…more on that later.)
When I think and speak negatively about my kids, I create expectations and behaviors that I don't want to be true of my family. Although they felt very true in the moment, none of the declarations I made align with God's true desires for me or my children. So, in an effort to better shepherd these two little souls the Lord has given me, I'm more closely examining the thoughts I'm thinking. As well as the words I'm speaking. Ultimately, I'm finding that the interplay between these two critical areas directly affects not only my parenting but my entire life.
Thoughts…
The harsh comments I was making to my kids originated from the negative thoughts I was thinking about them. Each morning, I awoke dreading the long hours of the day which lay ahead. And trying to fill the time with creative activities to keep them both peacefully engaged, proved too daunting a task. I was constantly bracing myself for the next explosive outburst or heated bout of sibling rivalry. And as my thoughts were filtering for the bad, my mouth was following suit.
Constant preemptive refereeing ensued: "No, don't play in the same room! I'm not going to listen to another argument from you two this morning. Stop throwing that in the house. You're going to break something or hurt your sister again! Quit bothering your brother!…"
And because I was expecting them to behave poorly, indeed I saw a bunch of negative behavior from my kids. Scripture clearly describes how this happens. That which we hold in our hearts and minds determines the words we speak and the reality we see.
A good man out of the good treasure of his heart bringeth forth that which is good; and an evil man out of the evil treasure of his heart bringeth forth that which is evil: for of the abundance of the heart his mouth speaketh.

Luke 6:45
Align…
After the disastrous first week's tremors subsided, I began to sort through the rubble. I picked up shards of cutting words I had spoken, sorted through broken remnants of hope for time well spent together, and took one last look at fading images of defeated thoughts that had been on replay in my mind. Sensing that the storm had passed, I now had a choice to make: I could either dwell on the previous week's devastating losses, or I could look ahead to the next week as a fresh start. A new opportunity to align my thoughts and words to the truth about my kids and myself as a mom.
So, on Sunday night, I intentionally set my mind to have a better week. And how does one follow through on this kind of decision? Perhaps you've studied Joyce Meyer's wonderful book The Battlefield of the Mind or meditated on the following scripture. If so, you know that it all begins with first noticing and then choosing which thoughts we allow to take root in our minds and hearts.
Casting down imaginations, and every high thing that exalteth itself against the knowledge of God, and bringing into captivity every thought to the obedience of Christ.

2 Corinthians 10:5
On Monday morning, the same heavy thoughts tried to take the stage yet again. But they were like an unwanted encore performance after the audience has left the building. I began to take each thought captive to see whether it lined up with the truth of the Word.
Paying closer attention to the ways my kids were playing well together, I began to praise their efforts–no matter how small– to cooperate and share with one another. And when I began looking for the good, guess what I saw? A great deal more positive interactions between my kiddos. And guess what I did a lot less of? Frazzled policing of their every move. By the end of the week, we had hit our stride. And for the first time, in what felt like a long time, I actually found myself thoroughly enjoying playing with my kids!
He's Thinking Good Thoughts…
This might all sound like easy, Positive Parenting 101 stuff. But when we're in the middle of what feels like an earthquake, sometimes it's hard to remember the basics: find less fault, give more praise. And isn't this how our heavenly Father guides us?
He isn't constantly hovering over us, just waiting for our next mistake so He can bring down the hammer. Not at all. He's a good Father who put His Holy Spirit within us as our constant comforter and counselor. And He's quietly cheering us on. Looking for ways to praise and encourage us. Delighting in His children. And all the while, He's thinking good thoughts about us!
For I know the thoughts that I think toward you, saith the LORD, thoughts of peace, and not of evil, to give you an expected end.

Jeremiah 29:11
So, here's to thinking good thoughts that align with God's truth about who we are. Beloved, when what we think aligns with His Word, we will speak life to our own hearts and to those in our midst. So, let this be our prayer:
Let the words of my mouth, and the meditation of my heart, be acceptable in thy sight, O LORD, my strength, and my redeemer.

Psalms 19:14
What kinds of thoughts have you been thinking lately? Are the words you're speaking giving life to those around you?
God doesn't constantly hover over us, waiting for our next mistake. He's a good Father who put His comforting Holy Spirit within us; He's quietly cheering us on, delighting in His children! Click To Tweet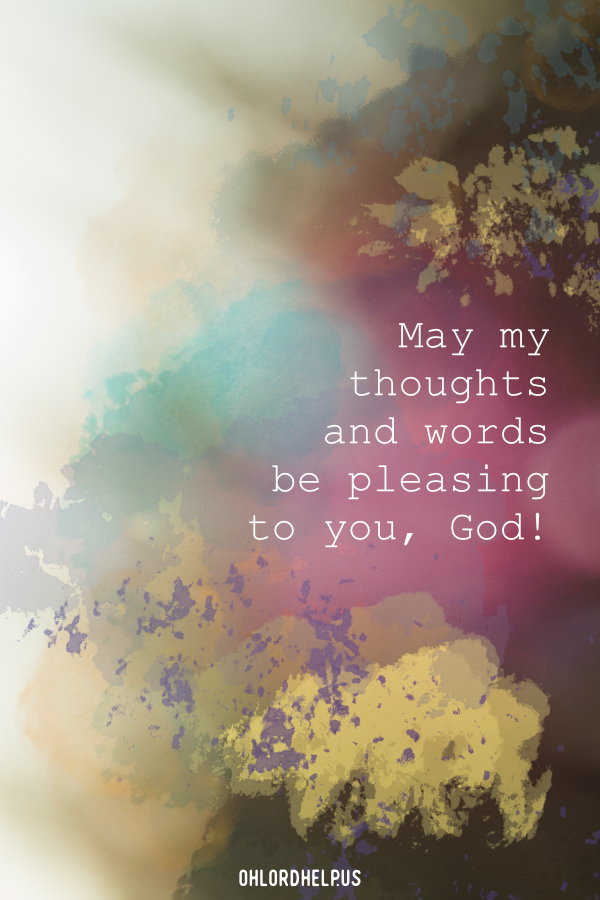 All scripture references are from The King James Version of The Bible.